The first collected edition of Dark Horse Comics' adaptation of the popular FPS series Halo hits the ground running with plenty for fans and first timers alike to dig into.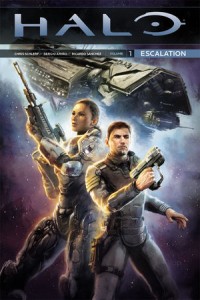 Launched not all that long ago, Halo: Escalation takes a step into something of uncharted territory with the Halo property. Not only is it telling new stories that have never been seen played out via your Xbox, but this is canon stuff, so it actually counts towards the Halo universe. Dark Horse has made a habit of doing that with some of their biggest licenses and it, I feel, draws the reader in even more if they're a fan, since they know that 'this one counts'.
Things kick off in Escalation with a Spartan that fans should be well acquainted with too, that being Sara Palmer. Her and her team are training in a combat simulator that's eerily similar to the holodecks on Star Trek: The Next Generation, it's a segment that ends with a cool little Easter Egg that refers to the games' multiplayer modes and also introduces the Spartans to the book in  the best way possible, by showing their combat strengths. That's what these genetically-enhanced super-soldiers are bred for,  combat, and to see them in action right off the jump really reinforces that fact. From there, things get more serious for the Spartan, her Captain (Lasky, who you probably also know from Halo 4), and the pride of the new fleet- the UNSC Infinity.
Peace talks between two of the game series' most famous races are being discussed, as things have… broken down between them thanks to one being an aggressor and assaulting the other's colonies. Just in case you're unaware, the alien conglomerate called the Covenant (the big, bad force of the Halo universe) is basically no more. Escalation takes place after the events of Halo 4, so the war is over and relative peace has returned to a fractured galaxy. While humanity picks up the pieces and regroups though, the shattered Covenant races try and make a new life for themselves without the order and structure that most of them enjoyed.
In the case of the Sangheili and the Jiralhanae though, better known as the Elites and the Brutes, it isn't going so well. Needless to say, events propel things into the realm of action pretty quick (this is Halo after all) and there's plenty of thrills to be had here. It's particularly cool to see a Spartan team in action that doesn't include the Master Chief, the main character from the games. He's only hinted at in the book, and that's a good thing as it's nice to see the scope of the stories that can be told in the Halo universe get a little bigger and broader.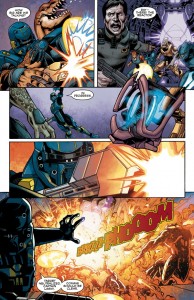 Telling that story is writer Chris Schlerf, who does a great job pairing backstory with new stuff and making it all fit in with what's already been established within the video game series. Most all of the book (which includes issues #1 through 6) is well written and shows a much bigger landscape of what a post-interstellar-war Milky Way is actually like than a game could ever depict. It's not as deep as a novel, but it doesn't have to be thanks to the illustrations, which tell half the story. This is a comic book after all.
And providing the interior artwork is the duo of Sergio Arino and Ricardo Sanchez. The two artists styles aren't really all that different, though it is a noticeable change when the story shifts from one to the other. I personally prefer Arino's style, which is bolder and more traditionally comic book-y, though Sanchez's work has a cleanness to it that plays up the science fiction elements that Halo is known for, so take your pick really. The art is actually good all around, but is somewhat unspectacular. It's not going to floor you is what Im saying here.
As far as extras, you'll find cover art sprinkled throughout and some neat poster-style art in the back, but that's about it. This isn't a deluxe edition though, so it's rare to get anything, and what there is is a pretty cool bonus.
Final Thoughts
I had a pretty great time reading Halo: Escalation volume 1. Granted, I'm a fan of the fiction to begin with, but the pace is great and the artwork is solid all the way through, plus it's just plain fun to see a relatively new science fiction franchise start to make its way into the comic book domain. It's rare to see anything like that these days, especially within sci-fi, and Halo's monthly book gets it off to a terrific start.
I also love where the book looks like it's heading, which is something that Halo fans will either like or dislike, though I thought it was a great nod to what might be on the horizon.