Plants vs Zombies, Marvel Comics, and Clerks Minimates all make landfall onto the shelves of retail stores today, along with a new Godzilla bank that mech's things up a bit.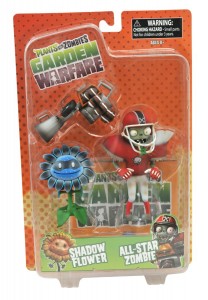 Well, as far as what I'm looking forward to this week, it's probably the 'best of' Marvel Series as I wasn't collecting Minimates for a while and missed a few of these classic figures that are set for re-issue. You might be more looking at those awesome black & white Clerks figures or that amazing set of PvZ 'Mates though. The Plants vs Zombies sets have been a long time owing in particular and are not only timely (Halloween is just around the corner you know), but as close to being must-have for any fan of the property as you can get.
If you're not into the Minimates series', your choices are a little more limited this week, but that Mechagodzilla bank is nonetheless a pretty big winner in the awesome department. Yes, it sis a bank first and foremost, but it's pretty easily able to double as a bust too- and would look pretty dang awesome next to your Godzilla film collection on your DVD/Blu Ray shelf.
Clerks Minimates 20th Anniversary B&W Box Set
A Diamond Select Toys Release! These Minimates aren't even supposed to be here today! It's the 20th anniversary of Clerks, the legendary first movie by the godfather of geeks, Kevin Smith, and DST is celebrating with a box set of four Minimates! Dante, Randal, Jay and Silent Bob are each lovingly rendered in black-and-white, standing approximately 2 inches tall with a variety of interchangeable parts and accessories. Packaged on a blister card. Designed by Art Asylum! (Item #MAY142230, SRP: $19.99)
http://diamondselecttoys.com/clerks-minimates-20th-anniversary-box-set
Best of Marvel Minimates Series 3 Asst.
A Diamond Select Release! The best Marvel Minimates DST has ever made are back for a third series! Four more two-packs of Marvel's most famous heroes get the ultimate Minimate treatment, including Marvel Now Captain America with Spider-Sense Spider-Man, Transforming Grey Hulk with Mark 29 Armor Iron Man, Classic Hawkeye with Lab Attack Ant-Man and Luke Cage Power Man with Dragon Attack Iron Fist! Each Minimates mini-figure stands 2 inches tall with 14 points of articulation and features a variety of interchangeable parts and accessories. Designed and Sculpted by Art Asylum!  (Item #MAY142222, SRP: $9.99/ea.)
http://www.diamondselecttoys.com/best-of-marvel-minimates-series-3-asst
Godzilla Classic Mechagodzilla Vinyl Bust Bank
A Diamond Select Release! Godzilla's greatest foe is launching his attack! A cybernetic copy of Godzilla with superior firepower, this vinyl bust bank of Mechagodzilla is based on how the robotic kaiju appeared in 1974's Godzilla vs. Mechagodzilla. Standing 8 inches tall, the bank features a coin slot in his back, as well as an access door in the base. Sculpted by Gentle Giant Studios!  (Item #MAY142233, SRP: $22.99)
http://www.diamondselecttoys.com/godzilla-mechagodzilla-vinyl-bust-bank
Plants vs. Zombies: Garden Warfare Action Figure Asst.
A Diamond Select Toys Release! Can't get enough of the acclaimed third-person shooter Plants vs. Zombies: Garden Warfare? Stage your own battles using the brand-new assortment of action figures from Diamond Select Toys! Each two-pack includes a  5″ scale Zombie and an opponent Plant figure, each with multiple points of articulation. Free Garden Warfare bonus content download code in every package!
Find your local comic shop at http://bit.ly/findcomicshop