Robocop vs Terminator, superheroes, plenty of horror figures, a NES-themed Rambo, and one big and nasty Alien Queen – NECA had a little something for everyone at the Con.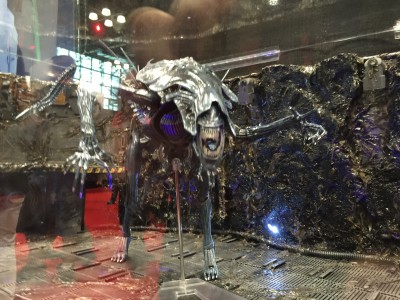 NECA is a seriously impressive company. When you think of the sheer amount of insane licenses that they hold at this point, it's staggering. DC, Marvel, Aliens, Predator, more horror properties than you can count, Halo… it really is amazing, especially since this is a company that not all that long ago didn't have that much of a stable at all.
And NECA doesn't really rest on laurels at all either. They're constantly one-upping themselves with sculpts and quality. Even non-fans of some of their lines have to take note, and pick up a few things that they normally wouldn't. Look at their Pacific Rim line for instance, the movie wasn't all that big of a hit, but there are more than a few collector's who definitely dig NECA's plastic interpretations of both the Kaiju and the big bots. Awesome stuff.
This year's NYCC saw the usual assortment of figures from all of the above and then some – including the full-on, throwback Robocop vs The Terminator toy line. Oh, man was that awesome. Peek at the gallery below for more.