Buying into the last-gen (digital) version of Activision and Sledgehammer's newest Call of Duty title? Then you'll be eligible for a free upgrade to the current-gen edition. On top of that, if you have an Xbox One, you can commence pre-loading shortly to get right in on the action on launch day.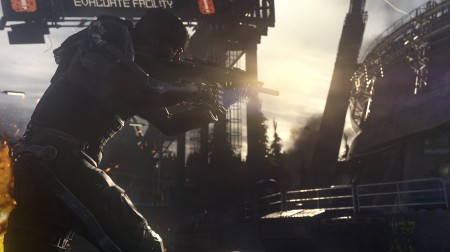 Lots of digital news for Call of Duty: Advanced Warfare today as publisher Activision has announced there's some free gaming to be had for last console generation buyers of the game. If you pick up the Xbox 360 r PS3 version of Advanced Warfare any time between now and March 31st, 2015 via Xbox Live or the PSN, you can then upgrade that version to the Xbox One or PS4 copy.
Even better, your multiplayer stats will convert (so you won't have to start over in the highly competitive CoD multiplayer arena) and any DLC or Season Passes that you grab will also be upgraded- free of charge. That's a pretty sharp deal and allows gamers to buy the game and play on last-gen even if they're planning on taking home a current-gen console for the Holidays – then get a copy for that shiny new console without cost. Pretty neat.
The game hits retail on November 4th with the early-launch Day Zero Edition being made available for pre-order customers on the 3rd of the month. The Xbox One digital edition will be available for pre-order and pre-load soon, and the PS4 edition is ready for pre-order right now.