Get ready to rev you engines and take to the legendary Laguna Seca Raceway in an exclusive DLC pack for those who pick up either game for the PS4 via GameStop.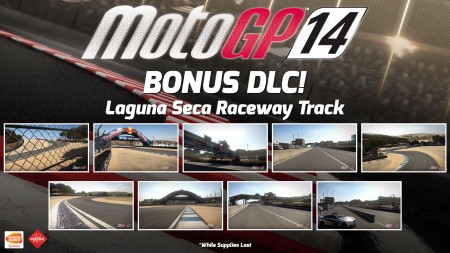 One of the biggest raceways in the world when it comes to Motocross, Laguna Seca Raceway is on the way to both of Bandai Namco's newest racers, MotoGP 14 and MXGP – The Official Motocross Videogame. All you need to do to get in on the extra speedway is to buy a copy of either game on the PS at GameStop or at EB Games (if you still have one of those near you). In addition, if it's MXGP that you're picking up, you'll also be in for a special 8 pack of helmets including the FOX Helmet set and UFO Helmet set.
While the DLC is available only for the PS4 version of the games, you'll certainly find both titles out on other consoles. So if you don't happen to have a PlayStation the fourth, you'll more than likely still be able to get in on a racing. MotoGP will be hitting the PS4, PS3, and the Xbox 360 as a retail game and will be available as a download on the PS Vita and PC on November 4th.
As for MXGP – The Official Motocross Video Game, that'll be arriving on the PS4, PS3, PS Vita, Xbox 360 and PC a little later than it's MotoGP bro- on November  18th.