PvZ heads to the toy aisle and you could win all of them before they even see official release.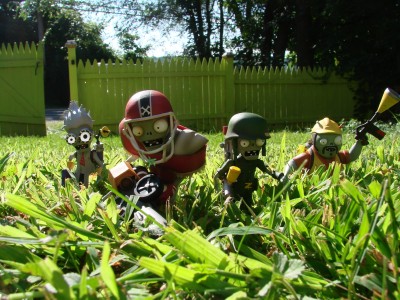 The newest game in the series, a straight-up multiplayer shooter called Garden Warfare, has just hit the PS4. So with the title now available on the Sony console, the Xbox One, and the PC, what's next? Minimates apparently.
One of the coolest and most unique series' you're likely to see come out of the brand, these bad boys have some really awesome sculpting and are super-faithful to the look of the games. If you're a fan, these are pretty close to a must buy addition for your action figure shelf. The PvZ Minimates are ready for launch in the usual two-pack Minimate style and will be available in both the standard pairings and in unique box sets at both specialty stores and Toys R Us'.
As far as the standard packs, here's what those will look like:
Gatling Pea with Scientist Zombie
Camo Cactus with Foot Soldier Zombie
Chomper with Engineer Zombie
Shadow Flower with All-Star Zombie
The box sets sound perfect for not only completing the set, but also if you have a penchant for setting up your little plastic pals in dioramas. They'll break down like this: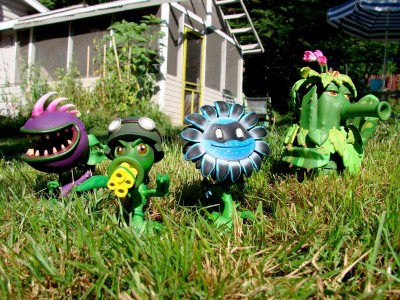 Toys "R" Us set:
Foot Soldier Zombie, Scientist Zombie, Chomper, Sunflower, and two Pea Shooters
Comic shop/specialty stores set:
Engineer Zombie, All-Star Zombie, Cactus, Sunflower, and two Pea Shooters
All of the above will be tricking into TRU's and specialty shops starting some time next month. Even better, you can win all 8 figures and both box sets, the complete collection, right now.
All you have to do is share one of the pictures in this article (via Facebook, Twitter, Pinterest, Instagram or Google Plus), then send your name, address, and a link to your post about the toys to [email protected]. The winner will be drawn on September 1st and you can enter as many times as you like. Each individual pic that you share, plus an accompanying email to DST, counts as an entry. So you've actually got a ton of chances to enter in this contest.
And that's it, simple, and you could be taking home a pocket full of PvZ.