Konami's premier soccer title is almost playable.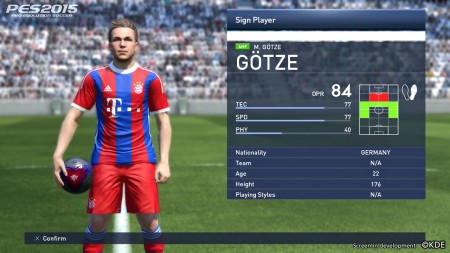 PES 2015 will have a keen eye on the details of what makes a soccer match something special when the demo for the game hits the PSN on September 17th. The publisher's mantra for the game has been "the pitch is ours" and it's had two production teams hard at work on the game (Tokyo and Windsor) to "recreate the drama and tension associated with a vital match" with the upcoming title.
Most of that work has gone into some new features for Pro Evolution Soccer 2015  from the looks of things as Konami has announced a laundry list of new things that soccer fans will be able to do in PES. Some of what's new you might not notice, but most all of it will directly impact gameplay in some major ways including all new modes of play and an attention to detail that sounds pretty spectacular.
Have a look below at the full list of what you can expect to see and play around with in PES 2015. Though the demo is incoming in about a month from now, there's still no firm release date for the title, though you can expect to see it hitting the PS4, PS3, Xbox One, and Xbox 360 when it finally does debut.
Key On-Field Advances:
Incredible Response Times: Lightning fast controls allow users to instinctively react to every movement when the ball is in play
On The Ball Abilities: Take on defenders using each player's authentic dribbling skills, as opposed to relying on 'trick' moves. New skills include close control, responsive sprint and incorporating a much wider range of pace – from walking to sprinting 
Case for Defense: Users have complete control over when to close down, tackle or hold up play. Successful defending is based entirely on the decisions the user makes
New Generation Highlights
Behavioral Patterns: PES 2015 now boasts a huge array of players that both look and play like their real-life counterparts. KONAMI has faithfully recreated over 1,000 players with authentic animations and playing styles across its extensive player roster. Teams automatically adopt their real-life game plan, whether it is counter-attacking, out wide playing or defending. Players' running and playing are authentic and they react emotionally as appropriate to fouls, goals or referee decisions – with their frame of mind actually affecting how they play
Poetry in Motion: The individuality of players is further enhanced with seamless animations. No sacrifice to animation has been made in the pursuit of fast response, yet the movements flow effortlessly calculated in real-time and dependent on the player's position in relation to the ball and its speed. Additionally, player models are also carefully enhanced
Bring the Noise: PES 2015 mirrors the atmosphere of a premier match. The crowd animations have been hugely enhanced, and the rhythm of a match is met with context-sensitive crowd effects and movements.
Let There Be Light: All in-game elements from players to crowd and stadium now benefit from a single source of lighting that naturally brings the game to life
PES ID Advances:
PES ID: Teams are designed to play as they do in real-life. Star players will work within this framework, and will be instantly recognizable via their runs and playing styles. Moreover, the world's greatest teams will move, attack and defend with authenticity
Realistic Abilities: While the world's greatest players are capable of moments of incredible skill, PES 2015 focuses on their abilities as players and not their flicks and tricks. Beating an opposing player during an attacking play will require using pace and close control. Only the most technical users will get away with rainbow flicks. And, even then, it may not work every time
All-New Modes:
myClub: Demanded by series fans, an extensive Master League Online overhaul allows players and managers to be added using accumulated GP points or via micro-transactions within club dealings. Additionally, agents are now used to meet player requirement criteria, while unhappy players can be detrimental to a team. Furthermore, Team Sprit plays a key role, as player/management and player/team dynamics affect a team's performance  
Live Updates: Weekly DLC updates will constantly update transfers and team line-ups across the English, French, Italian, Spanish and Brazilian leagues. Player data is also updated based on current performances every week, so if a player is on a goal-scoring streak, his stats will be boosted accordingly. Updates will be applied to online modes and will be optional within single-player mode
Adaptable Match Environments: A good manager knows how to give his side every advantage. As managers, players can request the grass be left long to slow down short play, or wet to suit a passing style. Players can tailor any part of their stadiums to suit their needs
Accurate Player Stats: After working with key community sites across the globe, the player parameter system for PES has been completely rebuilt with the most realistic player stats database
Second Divisions Added: PES 2015 vastly expands scouting databases as it now features the second tier leagues from England, Spain, Italy and France for the first time in the series
Role Control: Role Control allows three players to divide the defensive, midfield and attacking roles between them for more structured multiplayer action. This new mode means players govern their selected area and adds a new cooperative element to the game
Real Managers: For the first time, real managers will be featured in PES 2015 across a number of European and Latin American teams
New In-Game Currency: The GP system has been reintegrated. Earn GP within the new myClub mode and through unlocked in-game achievements
Unlimited Edit Modes: Stadium editor is back. Players will build their home pitch by choosing pitch patterns, side line colors, seat colors and goal net design. Other edit options include Manager Editor, new player editing options, and base copies for all players. Also, to compliment the return of Stadium Editor, new realistic licensed stadiums have been added
Presentation Overhaul: The menu system will be simpler and more effective. PES 2015 will also remember your preferred modes for quicker access
Online Modes:
QuickMatch: Simpler ranking match-ups have been added to speed up online games
Online Divisions: Accrue points in online matches across a season to aim for a promotion or face demotion 
Dedicated 11v11 Lobbies: Makes large-scale multi-player games more fluid and easy to set up
Cheat Measures: A new courtesy system has been introduced to reduce online cheating
Additional Improvements:
Master League: Revised structure for player growth, transfers, managers and auto-match settings. New cut-scenes and National Super Cups implemented have also been added
Become A Legend: Training modes have been enhanced, and specific match simulations, new transfer and recruitment systems, including a second tier league, have been added
Weather: Rain has been implemented
Licensed Soundtrack: Featuring Cold War Kids, Calvin Harris, Imagine Dragons and Avicii