Today is not only the unofficial start of the SDCC (it's preview night), it's also 'Batman Day'. And what's a superhero without some heroic tunes to back him up?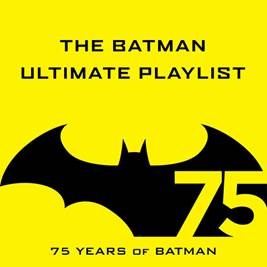 Batman Day, of course, is the marker for the 75th anniversary for a character that's not only become one of the best known in DC Comics' stable, but in all of comics. To help celebrate this momentous occasion, digital music service Rdio has a very cool little playlist all planned out and ready to be listened to.
Together with American record label WaterTower Music, Rdio has assembled a massive list of music from across the Dark Knight's appearances in movies, video games, and television. Basically, there are a few tracks on here that you'll more than likely dig no matter which era or version of the Bat-Man you're into.
Have a listen via the applet right here and get your Batman Day started off right. The full track list is below the players embed, should you like to see what's on tap, and you can check out Rdio directly by clicking here.
Track Listing:
Vicki Waiting – Prince – Batman
Scandalous – Prince – Batman
Batdance – Prince – Batman
A Batman Overture – Elliot Goldenthal – Batman & Robin (Music From And Inspired By The Motion Picture)
Batman – Theme from the 1989 Tim Burton Motion Picture (feat. Dominik Hauser & the City of Prague String Musicians) – Danny Elfman – 64:49
Molossus – James Newton Howard, Hans Zimmer – Batman Begins: Original Motion Picture Soundtrack
The Final Confrontation Part I (Part I) – Danny Elfman – Batman Returns (Original Motion Picture Soundtrack)
Face To Face – Siouxsie And The Banshees – Batman Returns (Original Motion Picture Soundtrack)
The Batusi – Neal Hefti & his Orchestra and Chorus – Batman Theme & Other Bat Songs
Batman Theme (1966 TV Series) – Neal Hefti, Arr. Chuck Cirino – Batman Theme (1966 TV Series)
Enter the Asylum – Nick Arundel – Batman: Arkham Asylum (Original Video Game Score)
Arkham City Main Theme – Nick Arundel & Ron Fish – Batman: Arkham City – Original Video Game Score
Arkham Origins Main Titles – Christopher Drake – Batman: Arkham Origins – Original Video Game Score
Main Title – Batman: Mask Of The Phantasm OMPST – Batman: Mask Of The Phantasm O.M.P.S.T.
Batman: The Brave and the Bold Theme (2008) – Andy Sturmer – The Music of DC Comics: 75th Anniversary Collection
Enter the Asylum – Nick Arundel – Batman: Arkham Asylum (Original Video Game Score)
Arkham City Main Theme – Nick Arundel & Ron Fish – Batman: Arkham City – Original Video Game Score
Arkham Origins Main Titles – Christopher Drake – Batman: Arkham Origins – Original Video Game Score
Main Title – Batman: Mask Of The Phantasm OMPST – Batman: Mask Of The Phantasm O.M.P.S.T.
Batman: The Brave and the Bold Theme (2008) – Andy Sturmer – The Music of DC Comics: 75th Anniversary Collection
Drives Us Bats – Tom Kenny, Dee Bradly Baker, James Arnold Taylor, Neil Patrick Harris, John Di Maggio, Kevin Michael Richardson – Batman: The Brave & The Bold (Mayhem of the Music Meister!)
A Death In The Family – Christopher Drake – Batman: Under The Red Hood – Soundtrack to the Animated Original Movie
Main Titles – Christopher Drake – Batman: Under The Red Hood – Soundtrack to the Animated Original Movie
Crash – Static-X – Beneath…Between…Beyond…
Kiss From A Rose – Seal – Best 1991 – 2004
Hold Me, Thrill Me, Kiss Me, Kill Me – U2 – The Best Of 1990-2000
Batman Theme – Link Wray – Good Rockin' Tonight
Why So Serious? – Hans Zimmer & James Newton Howard – The Dark Knight – Original Motion Picture Soundtrack
Rise – Hans Zimmer – The Dark Knight Rises: Original Motion Picture Soundtrack
Why Do We Fall? – Hans Zimmer – The Dark Knight Rises: Original Motion Picture Soundtrack
Batman (Live) – The Brian Setzer Orchestra – Don't Mess With A Big Band (Live)
Batman – Jan & Dean – Jan & Dean Meet Batman
Batman – Mark Mothersbaugh – The Lego® Movie: Original Motion Picture Soundtrack
Untitled Self Portrait – Will Arnett – The Lego® Movie: Original Motion Picture Soundtrack
Batman And Robin (Feat. Lady Of Rage, RBX) – Snoop Dogg – Paid Tha Cost To Be Da Bo$$
Batman – The Who – A Quick One (Remastered)
Gotham City (Remix (Clean Edit)) – R. Kelly – The R. In R&B Collection: Volume 1
Son of Batman – Frederik Wiedmann – Son of Batman: Music from the DC Universe Animated Movie
The Dark Knight Returns – Christopher Drake – Batman: The Dark Knight Returns Part 1 – Original Motion Picture Soundtrack
The End Is The Beginning Is The End – The Smashing Pumpkins – Rarities & B-Sides
Batman: The Electrical Brain (1943) – Lee Zahler – The Music of DC Comics: 75th Anniversary Collection
The Adventures of Batman (1967) – John Gart – The Music of DC Comics: 75th Anniversary Collection
Batman Beyond (1999) (Main Title) – Kristopher Carter – The Music of DC Comics: 75th Anniversary Collection