Publisher Udon is pretty well known at this point for making some of the most gorgeous Capcom-inspired comics and art books out there, and that's a fact that they'll be focusing on in their booth at this year's show.
The main attractions for the company's display will be none other than Ultra Street Fighter IV's producer Yoshinori Ono and Monster Hunter director Kaname Fujioka. Ono and Fujioka will be signing copies of Udon's Street Fighter and Monster Hunter books right there at the booth, which makes this a pretty special chance to nab autographs from these two industry bigs.
In addition, Udon will also have a full slate of talent on hand from their lineup of Street Fighter comics and tons of stuff for sale at the booth. There's also a party planned at Henry's Pub (618 5th ave) for the 21 and older crowd, so make sure you check that out too on JUly 23rd at 8pm as they'll have some cool raffle prizes and giveaways for the first 200 fans through the door.
Back to the signings though as here's your full list, including dates and times for Ono, Fujioka, and everybody else: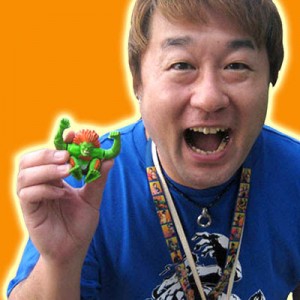 Producer Yoshinori Ono, of the newly-released Ultra Street Fighter® IV and the Street Fighter game series, will be signing at the UDON booth #4529 on Thursday, July 24, from 5pm-6pm.
Director Kaname Fujioka, of Monster Hunter™ 4 Ultimate and the Monster Hunter game series, will be signing at the UDON booth #4529 on Thursday, July 24, from 6pm-7pm.
These amazing game creators will join UDON's own crew of comic, design, and game artists in signing at the UDON booth this year! On hand for 2014 are:
Edwin Huang – Street Fighter series, Skullkickers
Thu: 10am-12pm, Sun: 12-2
Jeffrey 'Chamba' Cruz – Super Street Fighter, Random Veus
Preview Night: 6pm-9pm, Thu: 12-5, Fri: 3-7, Sat: 12-5, Sun: 12-5
Joe Ng – Street Fighter series, Street Fighter Origins: Akuma
Thu: 10am-2pm, Fri: 10am-5pm, Sat: 10am-12pm, Sun: 10am-2pm
Arnold Tsang – Street Fighter series, Blizzard Lead Concept Character Artist
Sat & Sun: 10am-12pm
Long Vo – Street Fighter series, Tatsunoko vs. Capcom™ game artist
Thu: 3-5, Fri: 12-2, Sat: 3-7, Sun: 3-5
In addition, UDON editorial staff Erik Ko, Matt Moylan, and Ash Paulsen will be on hand throughout the weekend.
UDON would like to thanks CAPCOM for their assistance in setting up these signings.