'Watch' for this one up for sale at Comic Con…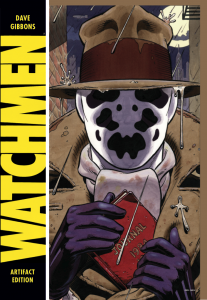 IDW is really making a habit of producing massive collector's tomes for some of the biggest stories to hit the printed page, well, ever. Dave Gibbons Watchmen: Artifact Edition is no different from what's come before in the series since it's pretty freaking amazing and looks to be as much of a 'must have' for fans as any Watchmen book has ever been.
Weighing in at 152 pages and measuring 12 x 17 inches, the Dave Gibbons Watchmen: Artifact Edition features 100 story-page scans (all shot from the original art) and many extras: covers, portfolio plates, color guides, roughs, early design images and more.
Can you say 'definitive'? Aside from the book, IDW will also be hosting a special evening with the author in San Diego. Dave Gibbons himself will be in the house for a "fine meal"…"in a private dining room in downtown San Diego" with the 25 fans who attend. Gibbons will sign copies of a special edition of the book (only 25 will be made) and actually pencil a unique head sketch for each one, right there and on the spot. If you're one of those fans who'll be attending, you'll even have your moment with Gibbons recorded as photogs will be on hand.
"I'm thrilled and flattered that IDW have produced this book of my Watchmen art" said Gibbons, "and I'm greatly looking forward to being on hand to launch it at San Diego."
Tickets to the launch 'party' can be purchased here, and the book will be on sale at the Con for the first time. And if you can't makes the party, you'll still be able to get your copy signed as the artist will be stationed intermittently at the IDW booth (#2643) starting on Preview Night (July 23rd) and lasting through the entirety of the show (all five days).