Warner Bros and Traveller's Tales' third LEGO Batman title will be present at the show next week in playable form and for a star-studded panel presentation that'll include Batman 66's Adam West.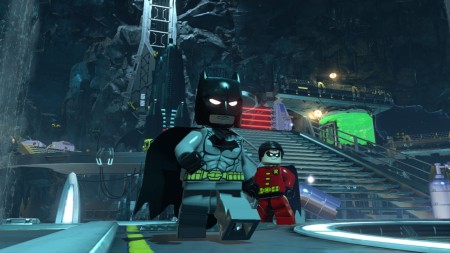 I'm not sure in what capacity Adam West will be in attendance, but it'll definitely be neat to find out. Hopefully West, who appeared as the not-so-Dark Knight in the classic Batman TV series and movie, will be included in the game in some way.
It would kind of lend to reason since the panel is really made up of cast members form the forthcoming LEGO adventure in exclusivity. To have West sitting there for no apparent reason, well, it makes no sense. Cross your fingers old chum!
Not strictly limited to a panel, LEGO Batman 3: Beyond Gotham will also be playable on the show floor at both the LEGO and DC Comics booth as well as in the Microsoft Gaming Lounge. So if you've been itching to get some hands on time with the massive LEGO adventure, now's your chance.
Here's your full list of events and details:
LEGO Batman 3: Beyond Gotham Panel – Join us in Room 6BCF at the San Diego Convention Center and meet the creators and voice actors of the game on Sunday, July 27 at  1:00 p.m., featuring TT Games Game Director Arthur Parsons, Executive Producer Phill Ring, as well as several members of the stellar voice cast, many of whom are reprising their roles in the famous LEGO Batman videogame franchise, including:
o   Troy Baker (Batman: Arkham Origins)
o   Travis Willingham (LEGO Batman: The Movie – DC Super Heroes Unite)
o   Laura Bailey (Batman: Arkham Origins)
o   Dee Bradley Baker (Phineas and Ferb)
o   Josh Keaton (Green Lantern: The Animated Series)
o   Scott Porter (Hart of Dixie)
o   And a special guest – the one and only Adam West!
Talent Poster Signings – Stop by the DC Comics booth (#1915) after the panel at 2:30 p.m. to get your memorabilia signed by Troy Baker, Travis Willingham, Laura Bailey, Dee Bradley Baker and Josh Keaton.
Live Demo and Hands-On – The game will be playable at the LEGO booth, DC Comics booth and the Microsoft Gaming Lounge located at The Hyatt (#100).  See a live demo of the game from TT Games Game Director Arthur Parsons:
o   DC Comics booth (#1915): Thursday – Saturday, from 1:00 to 1:15 p.m.
o   LEGO booth (#2829):Thursday– Sunday,from 3:00 to 3:30 p.m.