2K have officially revealed the debut of Sting as a pre-order bonus for its upcoming game in the WWE video game franchise. Sting will be available as two playable characters to those who pre-order the game.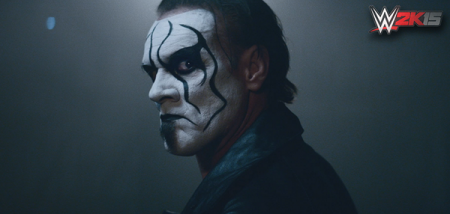 Speaking at the press release;
"One of the most popular and revered competitors in WCW history, Sting will be featured in "WWE 2K15" through two unique playable characters: the mysterious, ghost-like persona with trademark black-and-white face paint who was the face of WCW during the "Monday Night War" era, as well as his earlier look, sporting bright colors and a blond, flattop hairstyle.

"The only thing for sure about Sting is nothing's for sure, except my debut in 'WWE 2K15,'" said Sting. "I'm honored to have my legacy immortalized in a video game. It's showtime!"
What an announcement trailer, and that orchestra is AMAZING.
This has been long awaited by wrestling fans as for so many years Sting has eluded the WWE universe, and its great to see things are moving forward, much like they did last year with the Ultimate Warrior pre-order bonus.  As WWE is the only BIG wrestling company Sting hasn't wrestled for, the rumor mill is now truly spinning as to whether Sting will take up a competitive role within the WWE, and maybe, just maybe that long converted Match with the Undertaker.
WWE 2K15 is scheduled for release on xbox one, xbox 360, ps3 and ps4 on October 28th in North America and October 31st Internationally.