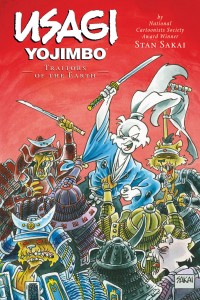 Usagi Yojimbo is the long running series of graphic novels by acclaimed cartoonist Stan Sakai about a anamorphic beings living in the Bushi era Japan. The main story focuses on Usagi, a Samurai rabbit who is out to save the land from the various evil and nefarious beings. He managed this through his use of the ancient Samurai arts and his quick thinking in most situations.
Traitors of the Earth is the 26 volume of the series and contains issues 117-123, so it's best if you have read the previous volumes before you jump straight into this one. The plot at this point leads the hero to a small village where a powerful wizard resides. Said wizard has the ability to raise the dead and will stop at nothing to get a gem stolen by Usagi. He terrorizes Usagi's friends which forces him to use force against the wizard not knowing what he's getting into. The second half of the volume consists of various battles between both sides trying to recuperate the powerful gem from the other.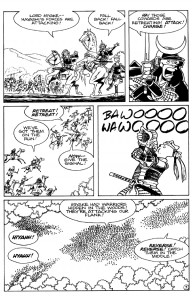 The art in the book is fantastic and shows why Stan Sakai has received so much acclaim over the years. It manages to be simple yet detailed, fleshing out scenes with much action happening in them and being able to convey a sense of tranquility when nothing much is happening. Sakai also uses larger panes of art to really convey intense moments, making battles fell that much grander.
Final Thoughts
Usagi Yujimbo: Traitors of the Earth is a pretty great continuation of the series and makes great use of the skills Sakai has acquired throughout his years as an artist. It brings the tales of old Japan to a western point of view and is a great read when you just want a quick pick-me-up title, to waste some time.