Comic Con 2014 will have a special showcase that DC Comics fans are not going to want to miss.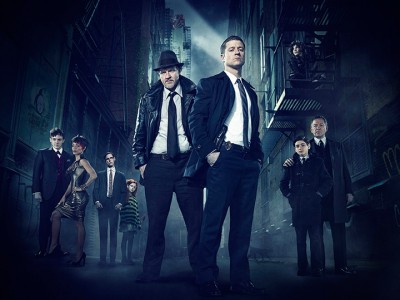 If you're looking forward to the premiers of the slate of new DC Comics TV properties this Fall, then this is a night to mark on your calendars. Saturday, July 26th (at the San Diego Comic Con), Warner Bros' and DC Comics will be hosting a special party at the con where they'll be showing the complete pilot episodes of Gotham and The Flash.
And that's not all as video presentations from both the third season of Arrow and the brand new Constantine will be shown too. On top of that, you'll be able to see several stars (as well as producers) from the shows named as they will be in attendance as well. All in all, the presentation will run about three hours, so this is a good chunk of the Con's busiest evening we're talking about here and will definitely keep you busy and in the swing once the doors close on the show for the day.
Here's your official rundown of what's planned:
Gotham 

World Premiere:

 For the first time ever, DC Comics fans will enter the dangerous and compelling world of Gotham with a screening of the pilot episode, followed by an appearance by the cast and producers.
The Flash 

Pilot Screening:

 Following a full-length screening of The Flash pilot, cast and producers will stop running long enough to take the stage.
Constantine 

Exclusive Footage:

 The enigmatic John Constantine makes his television debut at Comic-Con with footage from the upcoming series, and fans will be treated to a visit from the cast and creative team.
Arrow 

Season Three:

 Arrow returns to Comic-Con with never-before-seen teaser footage from the upcoming third season followed by cast and producers taking on fans' most pointed questions.
I'm pretty excited about all of the above and have been hearing extremely good things about both Gotham and The Flash.  I'm a recent convert on Arrow too (season 2 was shockingly good stuff), so that should be fun and while Constantine is still something of an unknown, the trailer certainly looked sharp so high hopes there too. Everything considered, this should be a bang up presentation.
Look for more about the big premier night to be announced soon as well as the panel presentations that WBTV has planned for the show. Stay tuned…