There has been no official work as to what or why, but Cliff Bleszinski (former lead designer on the Gears of War series) has tweeted that he's returning to game development.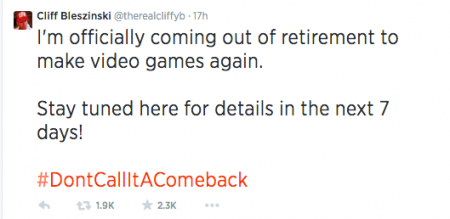 What fantastic news this is! As mentioned there is no word yet as to what he is going to be working on or in what capacity, but this is fantastic news. Guess the countdown is on now for an official announcement of sorts.

I for one cant wait to see what he has up his sleeve.
For those who dont know Cliff Bleszinski, Better known as CliffyB (or Dude Huge -ed ;)) is famous for his work on the Gears of War series, and the development of the Unreal Tournament franchise.