O.M.G . Ubisoft revealed their co-op game-play just hours before the ACU game-play demo was shown during their conference. And what an amazing demo it was. 3 years in development, and finally this beauty of a game is almost ready for us to get our hands on it. With new weapon the Phantom Blade, and their most ruthless Assassin yet, Ubisoft have promise a lot with this game, and boy o boy have they delivered.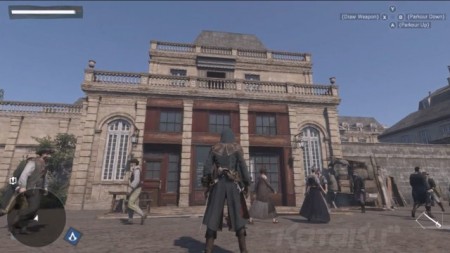 Graphically, there is no way the other games compare. with the realistic views of 18th century Paris, the game really draws you right in from the start, although little has been revealed at this time of the modern day portion of the game, I doubt the graphics will slack in any way, I mean c'mon this is Next Gen.  During a time of economic decay and revolution, the protagonist Arno Dorian, born 1768, joined the Assassin's in 1789 after suffer loss. His fight to expose the real cause of the French Revolution is our story for this, the 7th main game in the Assassins Creed franchise.
Introducing new navigational mechanics and an new health bar above enemies during combat, a few slight changes for the better are hoped to improve the players experience. New park-our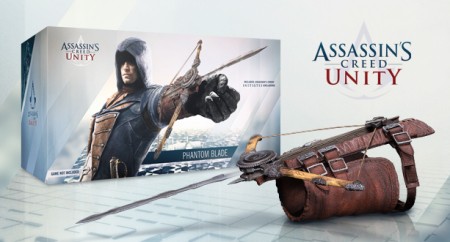 up, park-our down buttons were leaked earlier this year, and now the announcement of the Phantom blade, leaves fans relishing in the upcoming games changes. Phantom blade is a new take on the games famous hidden blade system, like a tiny cross bow, you can use this weapon for a long range kill, firing the blade from your wrist. Close range weapons include the French Cutlass and Multi-Barrel Pistol.
Fluid movements give the illusion at times that this is a real person leaping from rooftop to rooftop, and with a clearer eagle vision, in a lovely blue tone that I'm very happy with, making it a lot clearer to make out your enemies and general population, causing less mistakes during missions.
As for the Co-op mode new to the games, your brotherhood will help you out along the way in this game, something to spice up the single player mode. Using different skills sets, that you unlock and upgrade completely at your own will, each player can have their own special ability to aid the group in their mission. There is a certain elegance in the battle mechanics we haven't seen before, something that makes each kill different, maybe its the realistic blood spatter or the brutality of it all, (see what I did there).
This game also offers more freedom while free-running, allowing you to enter building through open windows and door ways. Something short of gymnastic movements makes the player feel like they are controlling a real person, rumoured the be the deadliest assassin of the series, Arno has a lot to live up too. Release date set for 28/10/14 and pre-orders already rolling in, this game is looking to be a big contender for game of the year in my opinion.