This autumn will se a ton of new stuff from Diamond Select Toys.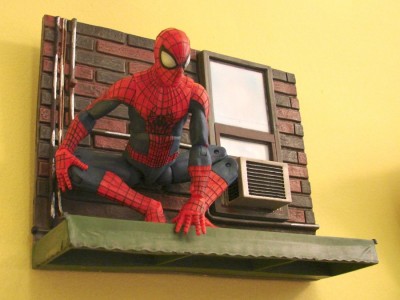 DST has a habit of making some of the best comic and movie related toys and collectibles around and this fall they'll be coming right back with a bunch more for you to add to your shelf. The new offerings, which you can find for pre-order in the June issue of Previews at your local comics shop, run the gamut of licenses too, so there's pretty much something for everyone.
Marvel, Batman '66, Godzilla and more highlight the offerings, but my personal favorite and pick of the bunch has to be that Cafe 80's pint glass from Back to the Future. So cool.
Aliens Alien Warrior Vinyl Bust Bank
A Diamond Select Toys release! What's inside an alien besides acid blood, a metal tongue and spite? Your money! This 8″ vinyl bank of a warrior-class xenomorph from the sci-fi classic Aliens may have a coin slot on the back and an access door on the bottom, but it looks just like a high-quality collectible bust! A detailed sculpt and paint job make this a must-have item for any Aliens collection. (Item #JUN142092, SRP: $22.99)

Back to the Future 2 Cafe '80s Logo Pint Glass
A Diamond Select Toys release! Remember the 1980s? The Back to the Future movies may have given us an unrealistic vision of the future, but one thing they got right was the love for everything 1980s! This pint glass is adorned with the logo of Cafe '80s, the theme restaurant visited by Marty McFly in 2015. Remember the 1980s (and the Back to the Future films!) with this nostalgic addition to DST's Reelware line! (Item #JUN142087, SRP $10.99)

Back to the Future 2 Biff Tannen's Pleasure Paradise Pint Glass
A Diamond Select Toys release! Raise a glass to America's greatest folk hero with the latest glass in the Glasses to Go line! Inspired by the world of Back to the Future Part II, this pint glass bears the logo of Biff Tannen's Pleasure Paradise, the den of iniquity seen in the corrupted version of 1985. Forget your troubles (and your alternate futures) with a drink at Biff's! (Item #DEC138389, SRP $10.99)

Back to the Future 2 Biff Tannen's Pleasure Paradise Shot Glass
A Diamond Select Toys release! Welcome to 1985! If you were ringing in the new year in the bar at Biff Tannen's Pleasure Paradise, you might be raising a shot glass bearing the logo of the famous hotel and casino, as seen in Back to the Future Part II. Sure, that timeline was erased, but this commemorative shot glass can be yours forever! (Item #DEC138388, SRP: $5.99)

Back to the Future 2 Biff Tannen's Pleasure Paradise Poker Set
A Diamond Select Toys release! Betting on sporting events is how Biff Tannen made all his money in Back to the Future Part II, so why not make your own luck at the poker tables of Biff Tannen's Pleasure Paradise? This stylish carrying case contains a full set of poker chips featuring the BTPP logo, plus a similarly decorated deck of playing cards. (Item #DEC138391, SRP: $99.99)

Back to the Future 2 Biff Tannen's Pleasure Paradise Zippo Lighter
A Diamond Select Toys Release! The Zippo lighter is one of the most distinctive lighters ever made, and we can imagine this all-new Zippo design being sold in Biff Tannen's hotel and casino, located in the heart of Hill Valley. Flip open this metal Zippo lighter sporting the Pleasure Paradise logo, and it's sure to warm the dampest spirits. Comes packaged in a full-color collector case. (Item #DEC138390, SRP $29.99)

Batman Classic TV Series Batman Vinyl Bank
A Diamond Select Toys release! This is one bank the Joker won't dare to rob! Standing 8 inches tall, this vinyl bank depicts Batman as he appeared in the Batman Classic TV Series. With a coin slot on the back and an access door on the bottom, this bust bank of Batman also features collector-quality sculpting and paint applications, and is the perfect addition to any Batman collection. (Item #JUN142088, SRP: $22.99)

Godzilla Mechagodzilla Metal Bottle Opener
A Diamond Select Toys release! Constructed of Space Titanium, Mechagodzilla battled the real Godzilla to a standstill on more than one occasion, and was only defeated when his head was torn completely from his body. Now his head lives on as the newest Godzilla bottle opener from DST! Made of solid metal, this 4″ tall rendering of Mechagodzilla's noggin can hang on your refrigerator or slip into your pocket, ready at a moment's notice to open a bottle, or possibly destroy Tokyo. Comes packaged in a collector case with a full-color slipcover. (Item #JUN142091, SRP: $18.00)

Jay & Silent Bob Strike Back Buddy Christ Vinyl Bank
A Diamond Select Toys release! Show your faith in Kevin Smith with this 10-inch vinyl bank of Buddy Christ, as seen in Jay & Silent Bob Strike Back! With a coin slot in his back and an access door on the bottom, this vinyl bank brings new meaning to the phrase "Jesus Saves!"  (Item #JUN142094, SRP: $22.99)

Marvel Minimates Zombie Villains Series 2 Box Set
A Diamond Select Toys release! The Villain Zombies are back, to take another bite out of the Marvel Minimates line! This time, Zombie Dr Doom, Zombie Morbius, Zombie Kingpin and Zombie Sabretooth make up the box set, which should have your Marvel heroes quaking in their boots. Each Minimate stands 2 inches tall and features interchangeable parts and accessories.  (Item #JUN142082, SRP: $19.99)

Marvel Select Amazing Spider-Man 2 Action Figure With Base
A Diamond Select Toys release! Due to popular demand, the Amazing Spider-Man is back in a second edition, the same great figure with different accessories! This 7-inch-scale figure still depicts Spidey in his brand-new costume, and features 16 points of articulation, but now it includes a wall-mountable New York City display base! Figure also includes one interchangeable hand and two modular weblines. Comes packaged in display-ready Select packaging with spine reference artwork. Designed and sculpted by Gentle Giant! (Item #FEB148390, SRP $24.99)

Pathfinder Minimates Series 1 Box Set
A Diamond Select Toys Release! From across the world of Golarion come representatives of four of the most well-known races of the Pathfinder RPG! This four-pack of 2-inch Minimates mini-figures includes the heroic Valeros, Human Fighter; the heavily armed Harsk, Dwarf Ranger; the mysterious Merisiel, Elf Rogue; and a vicious Goblin Warrior. Each Minimate features interchangeable parts and accessories. Packaged on a blister card. Designed by Art Asylum! (Item #JUN142089, SRP: $19.99)

Pulp Fiction 20th Anniversary Minimates Jackrabbit Slim's Box Set
A Diamond Select Toys release! The first Minimates box set for Quentin Tarantino's groundbreaking film Pulp Fiction is here, and it's headed to Jackrabbit Slim's! This four-pack of 2-inch mini-figures re-creates Vince and Mia Wallace's night out at the 1950s-themed diner and includes exclusive Minimates of Vince, Mia, Lance and Jodie! Each Minimate features 14 points of articulation and a variety of interchangeable parts and accessories.  (Item #JUN142093, SRP: $19.99)

Star Trek 3 U.S.S. Excelsior NX-2000 Electronic Starship
A Diamond Select Toys release! Hot off the assembly line, it's the test version of the U.S.S. Excelsior! As seen in Star Trek III: The Search for Spock, the NX-2000 Excelsior features button-activated lights, plus all-new sound effects and dialogue taken straight from the film, including lines by the ship's boastful commander, Captain Styles! Measuring 18 inches long, the Excelsior comes packaged in try-me packaging.  (Item #JUN142090, SRP: $60.00)

Walking Dead Michonne Vinyl Bust Bank
A Diamond Select Toys release! Zombie banks beware, there's a new, more deadly bank in town! Joining Rick in his battle against the undead, Michonne is the next 8-inch bank in DST's Walking Dead line. The perfect companion to our two Pet Zombie banks, this bank of Michonne has a coin slot in the back and an access door in the base, but has the sculpting and detail of a collectible bust.  (Item #JUN142081, SRP: $22.99)