Dragon Age Inquisition's Western Approach is the subject of the newest infusion of screenshots and information about what's been happening in the fantasy universe since we last saw it in Dragon Age II.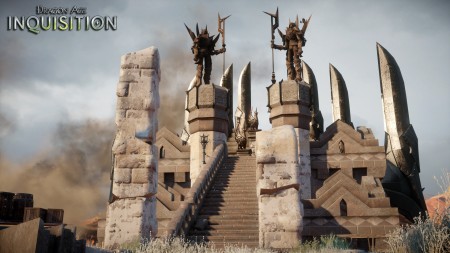 Inquisition, at least from these early looks, is looking absolutely gorgeous. It kind of needs to look the part though,  since many fans of the series were turned off by the change of pace that DA2 offered from the original, award winning release; Dragon Age Origins. Inquisition is looking like a real return to form for the series however and definitely seems like a real contender.
EA is promising a ton more releases about the game too,, which means we'll have a ton more coverage for you to treat your eyeballs to, as we move forward towards E3. This week's peek into Tevinter focuses on the long-abandoned Western Approach and the plague of evil that are the Darkspawn.
The entire Western Approach had become a wasteland, and thus the expense of maintaining the fortress became harder and harder to justify. There were no more griffons to fill its weyrs, too few Wardens to man its battlements, too many good men and women killed by demons creeping through the thin Veil…

The Grey Wardens and The Darkspawn

The First Blight had already raged for 90 years. The world was in chaos. A god had risen, twisted and corrupted. The remaining gods of Tevinter were silent, withdrawn. What writing we have recovered from those times is filled with despair, for everyone believed, from the greatest Archons to the lowliest slaves, that the world was coming to an end.
Dragon Age Inquisition is set to draw its sword on the Xbox One/360, PS4/3, and PC on October 7th.