R-Type Dimensions has been announced as a PSN title. The game is a remake of R-Type's 1 and 2, with all new modes and co-op multiplayer.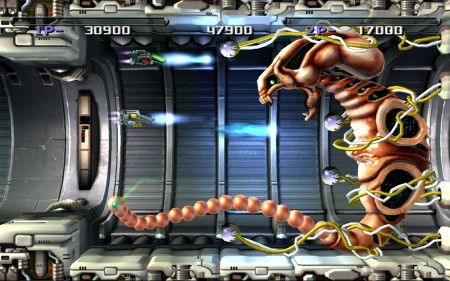 Over decades, the popular shoot'em up has had many publishers, from Irem and Nintendo, to Hudson and Sega. Another publisher has decided to handle the all new R-Type game, and the name of the company is Tozai Games. They're described as a worldwide publisher who has handled titles such as Lode Runner X and Spelunker HD. The new R-Type game looks great; all new modes have been added to the game, such as a co-op multiplayer, playing from a 3 dimensional view, and a feature called infinite mode. The new coat of paint that R-Type 1 and R-Type 2 have been given look spectacular; the 3D mode sort of gives off a Gradius V feel.
The art style is a bit of a mix really; in 3D mode there's depth added to the environment, while in 2D mode it's mostly HD sprites. Colors have been touched up, making areas in the game more attractive to the eye, and of course the weapons you use look improved visually. As for when you'll be able to play R-Type Dimensions, this incredibly difficult shmup will be available May 20th.