Diamond Select Toys has a new box set of Minimates featuring the four of the wall-crawler's classic enemies and plenty of extra parts- enough to make 7 different figures.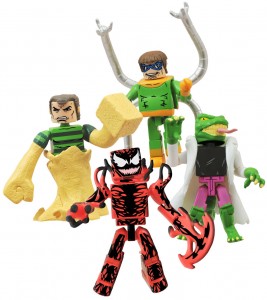 Carnage, Dr. Octopus, Sandman, and the Lizard all are included in the set, the first in a while showcasing Spider-Man's rogues. Actually, according to DST themselves, this is the first time in a good long time that Spidey's baddies are seeing the light of day at all in the Minimates collection. Unlike the hero that they face (who actually has the most appearances in the line) the villains that plague Spider-Man's heroic career have been shelved as many of the bigger Marvel Universe story lines as of late (whose characters are often featured in Minimate form) just didn't include them in any major way.
That changes with this exclusive set this September though. And not only will you get the gruesome foursome shown above, but you'll also get a plethora of spare parts necessary to make an additional three figures.
Carnage comes with a Kletus Cassidy head and various weapon hands, Sandman comes with Flint Marko's human arms and legs, and the Lizard comes with Dr. Curt Connors' head, legs, arm and empty folded sleeve, for a total transformation!
Otto is the odd-man-out in that lineup as he doesn't have any accouterment except for this four arms of terror, two of which can be posed to lift the figure off the ground, just like in the classic comics.
You can look for this set to hit specialty retailer Luke's Toy Store in September, and it can be pre-ordered right here. On a side-note, Luke's looks like a pretty great site, one I had no idea was even around. Looks like I'll be adding that one to the old bookmark bar…