Nintendo is pulling the lead out as the release date of Mario Kart 8 draws ever closer. Take a look at this new gorgeous trailer that they've released.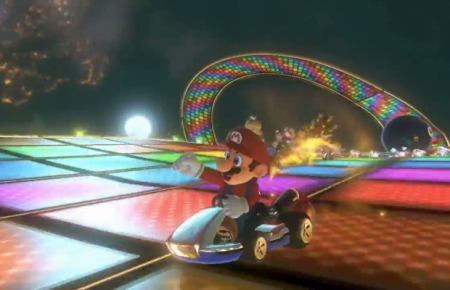 If there was ever any doubt that Mario Kart 8 looks beautiful, those fears can probably be put to rest by now. Everything we've seen at this point looks beautiful, from the lighting, to the shading, to the color palette, smooth fps, and sheer detail. If there's one thing that stands out above everything else in this video, it's Rainbow Road. It's a nice blend of Super Mario Kart and Mario Kart 64. The tiles are lined up just like the original course, and there are some sections that are completely without gates. In other sections you can see the star gates protecting you from falling over, just like the one in Mario Kart 64.
The actual detail of the course itself is also something to take note of. The bottom of it looks like Vegas if you were to view it from space. Some familiar levels like Donut Plains and Moo Moo Farm appear in the video, giving some of us older fans a nice taste of nostalgia. Metal Mario is back, so any worry about him being cut can be put to rest. His metallic sheen in MK8 looks great; Metal Mario in HD is a sight to behold. The anti-gravity feature is kind of taking a backseat in this video, as it seems to more-so focus on other new and returning features in the game.Mario Kart 8 will be heading to Wii U May 30th, 2014.
Source: Nintendo