Bethesda's newest Wolfenstein revival is getting some big time special edition love in the form of the super-limited Panzerhund Edition.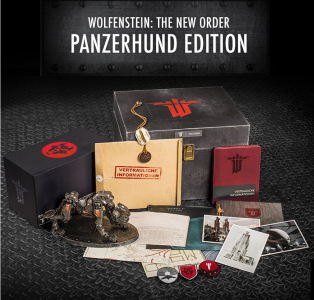 Available exclusively through the Bethesda online storefront, the Panzerhund Edition of Wolfenstein: The New Order actually includes a pretty nice selection of goodies that longtime fans of the property should eat right up. At $100 USD too, it's actually a good deal of bang for your buck when you consider the game itself will retail for $59.99. Here's what's in the (super cool) box:
An 8 inch fully articulated hand-painted Panzerhund statue and base
Classified folder containing salvaged secret war documents including maps, case files, letters, blueprints and an x-ray
A set of 14 full-color 'vintage' postcards from Wolfenstein's alternate 1960's, bound in a display book
Three embroidered patches
Custom replica dog tags
An exclusive Steelbook case to house your copy of the game **Actual game sold separately.
Limited to only 5,000 pieces (yes, it's an actually limited Limited Edition), the Panzerhund Edition also comes with an individually stamped and numbered plate and is ready for preorder right now on Bethsoft's shop. The game goes on sale on the 20th  of May for the PS4/3, Xbox One/360, and PC.
Also, don't forget that a preorder of Wolfenstein: The New Order (from anywhere) tags you as 'in' for the oncoming Beta of the next game in the Doom series.