Behold, the Imperial city of Mordheim! The City of the Damned…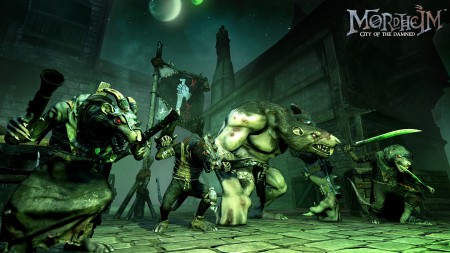 Actually, I've never heard of the 'cult classic' tabletop game that is Mordheim, and I was a massive fan of Games Workshop's Warhammer universe when I was a kid. It sounds pretty neat though.
After the Comet of Sigmar crashed on Mordheim, the City of Damned turned into a terrifying battlefield where rival warbands fight fiercely for the control of key neighborhoods, looking for glory and fortune by acquiring the very valuable Wyrdstone fragments.
With that as the backdrop, you'll assemble a war band from one of the factions vying for control and domination in Mordheim (Sisters of Sigmar, Possessed, Skaven, Mercenaries from the Empire, and many more) and engage in some old school turn-based, strategy battles. The home doesn't begin and end there though as you'll also get some light RPG elements and have your characters stats carry over from battle to battle (including stuff like loss of limbs). Oh, and expect permadeath. Don't look for that Skaven hero to pop back to life when the round is over.
Mordheim will have both a solo campaign and multiplayer mode, where you can challenge others to battles and developer Rogue Factor promises that you'll have a nice little playground to mess around in as you'll be visiting "the four corners of the City of the Damned" in your play through.
Expect to see Mordheim: City of the Damned waging war on the PC from Rogue Factor and publisher Focus Home some time later this year.