Far from dead as had been thought, Bethesda has announced that access to the upcoming Doom 4 (is that's still the name for it) will be granted by pre-ordering the next game in the Wolfenstein series, The New Order. There's a certain poetic quality to that.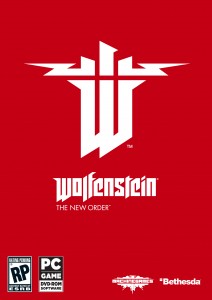 If you know your gaming history after all, then you know that Wolf was really the grandaddy of the FPS genre and a new age in gaming that's still going on today. Many attribute this to Doom, but iD Software's most popular IP actually just perfected the early formula that had been already established by its predecessor- Wolfenstein 3D.
So to have the next generation of Wolfenstein open the door for the next Doom is kind of neat is basically what I'm saying here in a somewhat flowery, roundabout way. I'd apologize, but I can't help it- this is Doom we're talking about here. But I seriously digress, because we're talking primarily about Wolfenstein: The New Order here.
Under development at MachineGames, The New Order was first seen a little while back and was heralded as one of the best looking new games running on next-gen hardware sets. Set in the 1960's, this is quite a departure from what's come before for the long-running series and takes the familiar characters and hurls them into an alternate universe where Germany won WWII and has effectively taken over the world. BJ makes his return as a soldier sent into the heart of enemy territory to try and take down The New Order by any means necessary.
The game looks like it's shaping up nicely and the addition of the Doom Beta program should only help it gain more momentum and more attention from gamers who've been eagerly awaiting news (any news) on that game. I'm honestly not going to say too much more about it since I can literally talk all day about Doom, but I'll add that you can click here to get more info from the official site about the Doom Beta program and how you can get in on it using your Wolfenstein disc.
As for Wolfenstein The New Order, it's not too far off now as it'll be hitting the Xbox One/360, PS4/3 and PC this May the 20th in the US and on the 23rd in Europe. Lock and load soldier.