Seattle's Emerald City Comic Con will have some very special exclusives courtesy of Dark Horse Comics.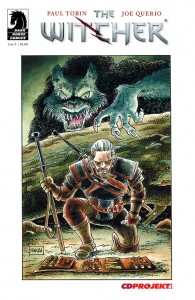 I've never made it to the Emerald City con, but it looks like such a cool show. Much more of a 'comic book' vibe than most of the others, including the massive SDCC and the almost equally as massive NYCC. That's not to detract by the way, as both of those cons are suitably awesome, but they're not the comic-centric events that cons used to be. ECCC seems to have some of that flavor very much in tact though, maybe that's why Dark Horse Comics will be debuting a four-spot of exclusive editions of four of their upcoming #1's there.
Buffy, Veil, Serenity, and The Witcher #1 will all see some very cool special editions with artwork that fans of the IP's in question aren't going to want to miss out on. Here's your rundown on the particulars:
First up is Veil, the much-talked-about new, original series by Greg Rucka and Toni Fejzula. For this year's show, Dark Horse has tapped J. H. Williams III to create the variant cover. Limited to 500 copies, Veil #1 is sure to go quickly, especially with writer Greg Rucka in attendance!
Next, we have the hotly anticipated Season 10 premiere of Buffy the Vampire Slayer, with a variant cover by Season 9 cover artist Phil Noto, limited to 1,000 copies. Look for interior artist Rebekah Isaacs at this year's show!
Another one for Joss Whedon fans: Dark Horse brings Jenny Frison on for a special cover of Serenity: Leaves on the Wind #1, featuring none other than the lovely Inara! A few lucky fans may even get actress Morena Baccarin herself to sign their copies!
Last, and certainly not least, legendary artist Stan Sakai has done a special cover of the upcoming tie-in series The Witcher, a canonical entry in the world of the Witcher video games, which have collectively won over 250 awards and sold more than 5.5 million copies worldwide! All proceeds from the sale of this limited edition variant will benefit Stan and Sharon Sakai. Stan will be attending the show, in celebration of the thirtieth anniversary of his landmark series, Usagi Yojimbo!
Each book will be sold for $5.oo USD at the con and a limited set quantity will be put out for sale each day of the show. So you'll be able to get a copy each day of the ECCC, but they probably won't last all that long since there's a predetermined number of copies put out each day. If you're a regular con-goer (to any show really) you already know the drill though- get there early.