Square Enix' formerly mobile-exclusive Deus Ex title is now playable on the PC via Steam.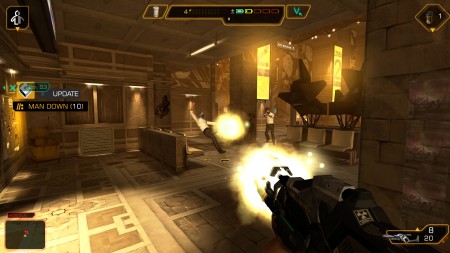 Arriving on the new platform a week ahead of time, Deus Ex: The Fall puts players in the cybernetically-enhanced boots of Ben Saxon, who looks an awful lot like actor Jean Reno. In the game, which was formerly only available on iOS devices, you'll find all of the trappings of the cyberpunk universe that's been around since the turn of the millennium.
DEUS EX: THE FALL is set in 2027 – a golden era for science, technology and human augmentation, but also a time of great social divide and global conspiracy. Powerful corporations have seized control from governments and command the drug supply needed by augmented humans to survive. In this chaos Ben Saxon, a former British SAS Mercenary who underwent physical augmentation, is desperate for the truth behind the drug conspiracy. Betrayed by his private military employers, the Tyrants, not only is his own life at risk but for all augmented humans, time is running out…
Like any good Steam port, you'll also get the requisite Steam Achievements, as well as trading cards, keyboard and mouse mapping, and controller support for Microsoft gamepads. Square Enix also says they've adjusted the AI in this new edition of The Fall, so even if you've tried the game on mobile, you might want to give it another look.
You can grab Deus Ex: The Fall on the PC right now through the Steam online storefront for $9.99 USD.