Ah Hellboy Day, that traditional day of the year that families gather to read the comics of Mike Mignola and give thanks for Big Red himself, Hellboy.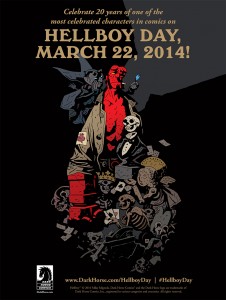 Something about that top line doesn't seem right… anyway, Dark Horse Comics, the ancestral home of Hellboy, has officially announced the list of retailers that will be taking part in the celebration of all things Hellboy. The day, March 22nd, will be marked with special events and giveaways across the US and should be a general great time for fans and a great time for non-fans too as they'll be able to have a look at the popular universe created by Mignola for free.
There will be a bunch of giveaways set for the day, but the lynchpin is a special sampler comic with stories featuring a pair of classic Mignola tales titled 'The Ghoul' and 'Another Day at the Office'. If you think this comic is just a couple of reprints though, you've got another thing coming because it'll also come stocked with two more stories by Mignola, Fábio Moon, and R. Sikoryak. Four big stories from the Mignola-verse for zero dollars. Pretty sharp deal for just walking into your local comics shop.
And speaking of those, here's your list of participating retailers from across the world, starting with the biggest- an appearance by Mignola himself:
HELLBOY DAY EVENTS—Saturday, March 22, 2014

1. Mike Mignola—Meltdown Comics—Los Angeles, CA

2 p.m.

Meltdown Comics

7522 Sunset Boulevard

Los Angeles, CA 90046
(323) 851-7223

Facebook Event Page:

https://www.facebook.com/events/604965422917272/

2. Tyler Crook, Dave Stewart & Scott Allie—TFAW—Portland, OR

7 p.m.–10 p.m.

Things From Another World—Portland Location

2916 NE Broadway Street
Portland, OR 97232
(503) 284-4693

Facebook Event Page:

https://www.facebook.com/events/517966264988958/?previousaction=join&source=1

3. Duncan Fegredo, Laurence Campbell & Mick McMahon—Gosh! Comics—London, England

2 p.m.–4 p.m.

Gosh! Comics

1 Berwick Street
London W1F 0DR

Facebook Event Page:

https://www.facebook.com/events/663075443731579/?fref=ts

British Comics Month Blog Post:

http://www.goshlondon.com/2014/02/gosh-presents-british-comics-month/

4. Art Baltazar—Aw Yeah Comics—Skokie, IL

Aw Yeah Comics

4933 Oakton Street

Skokie, IL 60077

Facebook Event Page:

https://www.facebook.com/events/635908639791454/?previousaction=maybe&source=1

5. Franco Aureliani—Midtown Comics—New York, NY

2 p.m.–4 p.m.

Midtown Comics—Downtown Location

64 Fulton Street

New York, NY 10038
(212) 302-8192

Facebook Event Page:

https://www.facebook.com/events/440353906097223/

Midtown Comics Blog:

http://blog.midtowncomics.com/ai1ec_event/hellboy-day-signing-itty-bitty-hellboy-artist-franco/?instance_id

 

6. Tonci Zonjic—The Beguiling—Toronto, ON, Canada

2 p.m.–4 p.m.

The Beguiling Books & Art

601 Markham Street

Toronto, ON M6G 2L7

Facebook Events Page:

https://www.facebook.com/events/587874404633938/

The Beguiling Website:

http://www.beguilingbooksandart.com/hellboy-day-the-beguiling-w-tonci-zonjic-lobster-johnson-artist/

7. Sebastián & Max Fiumara—Moebius Liceo—Buenos Aires, Argentina

5 p.m.–10 p.m.

Moebius Liceo

Av. Santa Fe 2729

Local 13 P. Baja

1425 Buenos Aires

Facebook Event Page:

https://www.facebook.com/events/265174783659681/

 

8. Fábio Moon—Quanta Academia de Artes—São Paulo, Brazil

Quanta Academia de Artes

Rua Dr. José de Queirós Aranha, 246

Vila Mariana

São Paulo 04106-061

Facebook Event Page: