Diamond Select Toys brings a few pretty high profile items to market this week including an awesome Klingon Bird of Prey starship, Knight Rider's KITT in full-on pursuit mode and a zombie who just wants to take a bite out of your favorite beverage.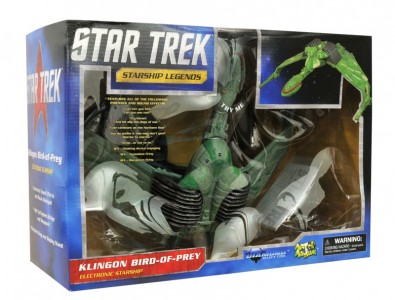 DST has a bunch of these bottle-openers out there at this point and they never fail to make 'em something fans of the various properties they feature would want. The newest, a The Walking Dead opener, is just as cool as you might imagine with a gaping zombie maw just waiting to munch on some bottle caps.
Knight Rider stuff is always something to look forward to as well since the classic TV show really doesn't see a glut of collectibles get out there, well, pretty much ever. Even both those items are awesome in their own right, my pick of the week this week has to be the Klingon Bird of Prey first seen in Star Trek IV: The Voyage Home and then in the popular Star Trek: The Next Generation television show.
Of course, it probably doesn't hurt that I'm a huge ST:TNG fan and I loved that movie, but the newest ship in DST's hanger is just plain awesome. The Bird of Prey comes complete with lights and sounds from Star Trek IV and an spare set of landing gear with 'Bounty' scrawled on them- exactly how it was customized by the crew of the Enterprise when they commandeered the ship.
All three of these items are in stores right now for your collecting pleasure; here's your official rundown:
Star Trek IV Bounty Klingon Bird of Prey Electronic Starship – From the far-flung future of 1986, comes the newest electronic starship from DST! This Klingon Bird of Prey was captured by the crew of the destroyed Enterprise, renamed "Bounty," and used to go back in time to find humpback whales. Now it's back in the present to join your collection! Measuring 19 inches wide by 12 inches long, this new edition of the Bird of Prey includes exclusive sounds, dialogue from Star Trek IV: The Voyage Home, plus an interchangeable set of extended landing gear with "Bounty" written on it! Comes with a display stand! (SRP $70.00, item #MAY128142)
Knight Rider Super Pursuit Mode KITT 1:15 Electronic Vehicle – Super Pursuit Mode engaged! This 1/15 scale replica of the Knight Industries Two Thousand (KITT) from the popular TV show Knight Rider measures 14 inches long and features working lights and sound effects from the show, including the distinctive voice of KITT! This special Super Pursuit Mode edition depicts KITT with all of his speed-enhancing gadgets extended, and includes exclusive SPM dialogue and sound effects! Get yours today, because they'll go fast! (SRP $60.00, item #AUG132034)
Walking Dead Pet Zombie Metal Bottle Opener – It's another high-quality Walking Dead product from DST! This 3.5-inch solid metal bottle opener depicts the collared head of one of Michonne's pet zombies from the smash hit comic book series. Simply insert the end of a bottle in this zombie's jawless mouth, and bottle caps will come off with ease! This opener also features magnets on the back for easy refrigerator door display. (SRP $18.00, item #AUG132036)