Take up thine sword and have some fun storming the castle in Zen Studios' excellent Castlestorm when it hits the Wii U just after Christmas. That should be a solid way to work off that holiday feast.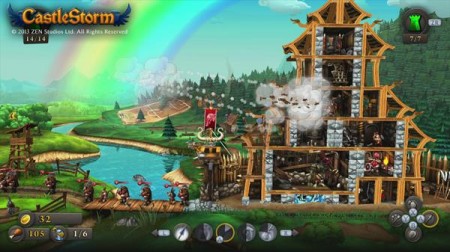 After all, there's nothing like a good siege to get the blood flowing and the metabolism up and roaring like a freight train. Castlestorm made some waves when it hit the Xbox 360, PSN and PC earlier this year, and now you'll be able to get your 'storm on with your Wii U console.
If you know Zen Studios (and you should) from their epic pinball titles featuring Marvel Comics, Star Wars and a bunch of other properties (including plenty of original creations), then you know how terrific this company is at making fun. And if you're going to be looking for a way to spend some Wii U eShop dollars (you asked for some in your stocking right?), then you're going to want to take a long hard look at the game that was inspired by building and knocking down LEGO castles.
Castlestorm also sports some Wii U exclusive features. As you might expect, you can indeed play the full game on the Wii U's GamePad, off TV. Not stopping there though, you can also get a local multiplayer game of Castlestorm going on the console by way of the Pad. One player gets the TV and a Wiimote to play with, while player 2 gets the GamePad- which is a pretty great idea that I'm really not sure why more companies haven't jumped on already.
Castlestorm will be up for download onto your Wii U on December 26th for $9.99 USD.