Daylight looks like one for the horror-junkies out there. The game not only features an abandoned hospital as it's setting, but shrouds the creaky old structure in darkness and something stalks its halls…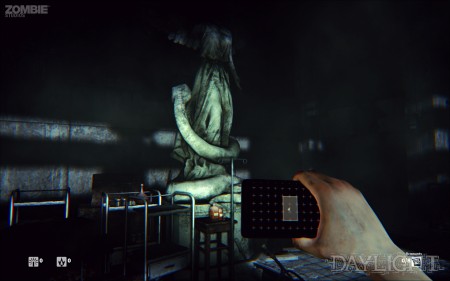 The storyline for Daylight is a really interesting one and seems like a heck of a lot of work went into the details and back story for the hospital and the town its settled into. Personally, and this is purely speculative, I'm sensing some Lovecraftian undertones here…
1983 – Present Day

Daylight's main character, Sarah Gwynn wakes up in the lobby of Mid Island Bay Hospital, but we don't know a lot about the history of Mid Island. Prior to present day, the last major interaction with Mid Island was nearly 30 years ago. In the early 80s, Mid Island Bay Hospital was a major interest to the G&C Investments Corp, who had designs on renovating the old hospital and turning it into a high-end hospice catering to the wealthy.

After spending a lot of money with the officials from the township of New Kipling, which claims Mid Island as its own, G&C was in the final stages of completing its due diligence to take control of the island and its property. They sent a team of contractors and experts to do on-site research, but after a short time G&C abruptly cancels the deal and leaves New Kipling altogether. Curious, the township sends in a team to follow up on G&Cs research, discovering, amongst other things, an abandoned excavation site with 12 grave-sized holes dug in the ground.

1948-1983

Mid Island Bay Hospital rots away in obscurity, left as a decrepit relic on the forgotten island. The doctors, nurses, patients, orderlies, and rest of the staff appear to have just left everything and disappeared one afternoon in the late 1940s. Furniture, files, and records were left with no hesitation, leaving a full shell of a hospital to age.

1939-1948

In the late 30s, a tourist steamboat caught fire and capsized off the coast of New Kipling, drowning more than 1000 passengers. The bodies of the victims washed up on the shores of Mid Island, and the hospital was quickly converted into a makeshift morgue to handle all the corpses. The remaining survivors of the shipwreck were treated at MIBH, but with limited resources and growing costs, the MIBH was unable to recover from the specter of a tragedy of that magnitude. The hospital closed its doors abruptly one day in 1948.
I love horror tales that start off with some high-strangeness. You know the stuff; things that just flat-out make no sense whatsoever and leave you wondering 'what went on here'. It looks like Daylight will have that in spades, so my interest is most definitely piqued. There also aren't a glut of horror (of any type) games hitting the market right now, so Atlus and Zombie Studios' latest is a welcome sight in that respect as well.
Atlus points out that the game is still very much a work in progress though. Currently, a mobile phone acts as Sarah's map, keeping her on track as she escapes the hospital and enters the sewers beneath. That all might change though as Zombie is still looking for the ideal way to keep players on the right track (and not getting lost) in the game's world.
As for when you might be seeing Daylight for yourself, Atlus is looking for the game to creep up on PC's and PS4's sometime in early 2014.