Dark Horse gets classic with some horror from way back in the latest release  from the Eerie Archives.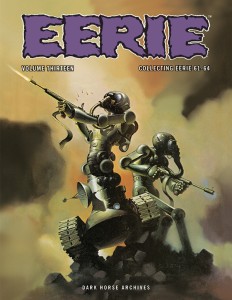 It's somewhat late in the year to be reviewing something that is usually considered "Halloween material," but such as the collection I will be reviewing here. We here at Brutal Gamer like doing things in weird and original ways after all. This will be my first comic review as I was never the type that wanted to found in a comic store. Not that I mean anything to those readers who enjoy the comforting feeling found amongst hundreds of old comics, but it never appealed to me.
With the intro done, it's time to begin the meat of this post- the review. The Eerie magazine was one of the most respected comic book collections of the 70's helping define the Sci-fi craze that was occurring in the era. Recently, Warren Publishing made a deal with Dark Horse comics to rerelease the entire Eerie collection. This is the 13th volume in the collection and feature issues 61-64 from the series.
First things first, this is a beautiful set. It's a leather bounded hardcover with an imprint of Uncle Eerie on the front. The pages are the high quality material we expect from Dark Horse and everything just has an artful feeling. The fronts of each issue are in color along with a few comics and, while being visually pleasing, pale in comparison to the black and white found in the others. This is one instance where color does not make the content better.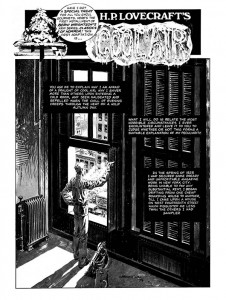 You will find the entire issues here, advertisements and all. It's quite a nice touch being able to see the various Q&A's and reader comment sections too. It's a delight to read the comics as people 40 years ago did as well. The only problem with this is that the first issue leaves you out of the context of the previous issue and makes the "Mummies Walk," trilogy a bit difficult to understand. The last issue suffers from this as well, as one story does not finish until the following issue (which isn't included in this volume).
The material itself is very strong and entertaining.  Sure it won't scare anyone over 10, but it's a nice thing to read in dim night right before bed. There's also a rendition of Cool Air by H.P Lovecraft which is worth noting and the entire 'Apocalypse' chronology is found in the four issues which is also quite a treat to read.
Final Thoughts
If you've ever loved the campy horror of yore, then this is something you really must look at. With some of the best work to ever come out of Warren Publishing, I whole-heartedly recommend this to nostalgia lovers and horror buffs. You could say it's Eerily amazing.