Just in time for Black Friday, you can get your hands on some brand new collected editions from Dark Horse Comics in the form of Comix Book and the long-awaited Polar: Came from the Cold.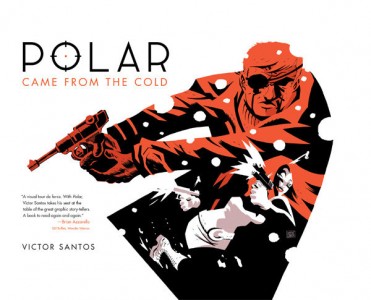 Neither one of these two books were scheduled to be released just yet, but Dark Horse has both on the shelves just in time for your big Holiday weekend shopping trip. If you've got a mature comics historian or someone who's big time into espionage and action, then you'll hit a home run with either volume.
Polar: Came from Cold has been a hotly anticipated graphic novel since its announcement last year. The book collects the formerly silent Polar adventure into one tome complete with something that its never had before- a script. So even if that Bond/Bourne/Bauer fanatic on your list has seen the story before, there's something new here worth his or her time.
Polar: Came from the Cold, by Victor Santos (The Mice Templar), is a guns-blazing espionage action-adventure in the grand tradition of Jim Steranko and Frank Miller. This graphic novel is a brutal, fast-tempo story of revenge that Newsarama says is "as ice-cold as its name." Though Polar was originally released as a silent webcomic, Santos has crafted a script as hard boiled and intriguing as his art for this hardcover collection.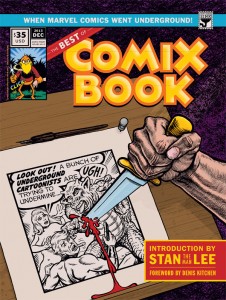 As for Comix Book, I have to admit that this is one that I've not heard of before. Comix Book is a collection of stories from a time when Marvel, as big as they are, had to go 'underground' to tell the mature tales that most books convey in standard monthly format today. And while I don't know much about the source material, I will say that any book that boasts Stan Lee, Harvey Pekar, Trina Robbins and the rest is pretty darned attractive for a longtime fan of the medium.
The Best of Comix Book: When Marvel Comics Went Underground! is a collection of the long-out-of-print underground Comix Book series (1974–1976), originally edited by Denis Kitchen and Stan Lee for Marvel Comics. The collection includes work from underground creators such as Joel Beck, Kim Deitch, Justin Green, Harvey Pekar, Trina Robbins, Art Spiegelman, Skip Williamson, and S. Clay Wilson. The book features an introduction by Lee, a foreword by Kitchen, and an essay by James Vance (Kings in Disguise), accompanied by unpublished artwork, photographs, and correspondence from Kitchen's archives.
You can grab both books, first scheduled for release on the 11th of December, right now in comic shops everywhere.