Gal geeks (and those who love them) take note, retailer Her Universe has plenty to make your Black Friday a happy one- and with no lines!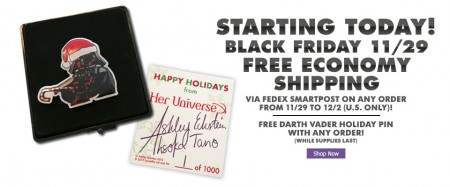 Who doesn't like some free stuff now and then (or all the time)?
Her Universe, which is an online 'geek' clothier for women, has a pretty great deal going today only. All you need to do is to place an order with them and you'll get free shipping (which as we all know can really be a lifesaver) and a gratis Star Wars holiday pin- a $30 value. The pin is something that the company does every year as just little nicety, but is pretty darned collectible and not found anywhere else. And it's free, which- how can you beat that? The only caveat here is that the pin (which also comes with a signed and numbered card) is first-come-first-served, so if you miss out on the 1000 unit allotment of them, that's it.
As of this writing, they're still in stock- so you might want to act sooner than later today. You can get to Her Universe by clicking here or on the banner above. Happy shopping!