If you picked up a copy of Unity #1, then you might be sitting on a Golden Ticket to New York Comic Con 2014.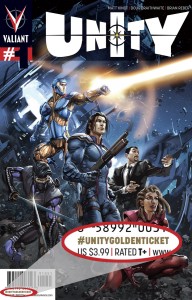 The book is available at comic shops nationwide right now, but there's a hidden little bit of previously unknown awesomeness that you may not be aware of hidden right on the cover of one of the pillbox variants.
As you see in the shot to the right, written right on the bottom of the book (under the bar code) is a special hashtag that reads '#unitygoldenticket'. If you have one of these magical books, then you've got a ticket to NYCC 2014 and more. 10 winners will receive a four-day pass to NYCC '14 as well as a "one-of-a-kind Valiant prize package". And this is one heck of a prize pack as it'll include a tour of the Valiant Comics offices in NYC during the show, dinner with the editorial staff for the company and a comprehensive collection of Valiant U trades and hardcover books.
Yeah- that's an awesome pack right there.
Now, if you haven't gotten one of these books with the special code printed on it, you can still enter the contest by writing to Valiant itself for an entry. All you need to do is to send your name, address, email address, and day and evening telephone numbers on a postcard to: Unity #1 Golden Ticket Promotion, 424 W. 33rd St, Suite 420, New York, New York 10001.
Winner entered through the postcard will be chosen on February 10th, 2014. If you've got an issue with the hashtag though, you can just send an email over to [email protected] to stake your claim. Want the full rules and regs on the contest? Click here.