The official fastest selling 3DS titles of all time are just loaded with pocket monsters.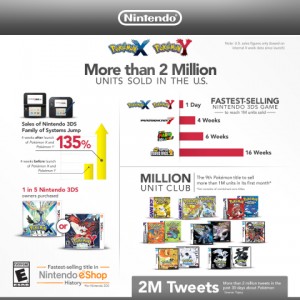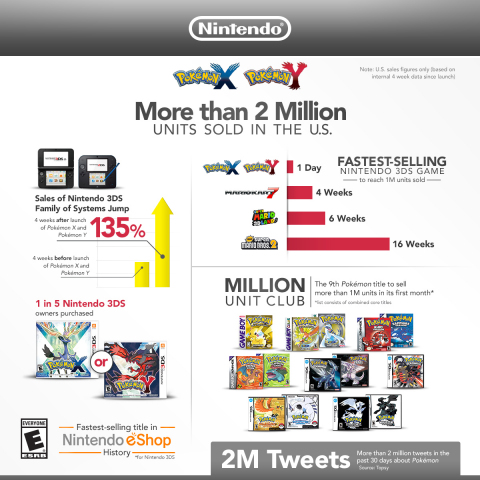 Not a ton to say about this one, but it is pretty darned impressive on a whole. Pokemon is really one of those franchises that never seems to lose its fan base though isn't it? There can be years between releases in a series that remained largely unchanged since its debut and yet fans still rush out to the store (and eShop) and flock to the latest and greatest versions of Pokemon.
The latest of course, Pokemon X & Y, really shook up the franchise and are such huge hits that they have already become the biggest games to ever hit Nintendo's 3DS console. Playable on both the 3DS and the new non-3D 2DS console, Pokemon X & Y are the fastest sellers on the family of consoles ever- reaching 1 million units sold in a flash and now passing a beastly 2 million copies moved.
Regardless of whether or not you're a fan of the franchise, it's really impressive to see that this longterm franchise is still going strong. The other members of the million+ club, by the way, are all Mario-related games, which is also quite telling in that Nintendo just seems to understand the handheld market and what gamers want from their classic IP's.
And speaking of, Pokemon X and Pokemon Y are both available right now for the 3DS both in retail shops and on the Nintendo electronic storefront, the eShop.