The Force is strong with this digital sale…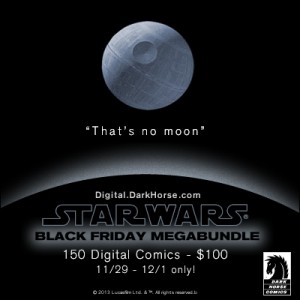 Dark Horse usually has something pretty cool up its sleeve for the biggest shopping day of the year and this year is no exception. Black Friday (this coming Friday) will bring a Star Wars sale of epic proportions with the Black Friday Megabundle. This beefy pack of Star Wars comic goodness includes over 150 Star Wars comics spanning a whole bunch of different eras and themes in the both the classic and prequel universes. Here's a bit of what you'll find in the bundle pack:
Get classics like The Clone Wars, The Old Republic, and all three arcs of Crimson Empire. Get a taste of Brian Wood's critically acclaimed Star Wars series. Your favorite Sith friends are here too, with Darth Maul and Darth Vader series, plus the latest series, Lost Tribe of the Sith. Your favorite bounty hunter, Boba Fett, is here, plus the Imperial spy comic Agent of the Empire. Go back in time to the origins of the Jedi in Dawn of the Jedi, travel to hundreds of years after the films end with Legacy, and more!
There's not too much to say other than that. Bottom line, if you're a Star Wars fan who's got some holes in his or her collection, this is the sale that you want to hit on the day after Thanksgiving. Actually, you can hit it right at the stroke of midnight on November 29th since the sale starts right then and there. So you can load up on turkey and stuffing and then read Star Wars comics till you pass into oblivion for the evening. Not too shabby.
If Thanksgiving night isn't going to work for you though, no worries, you have until midnight on December 1st to grab this deal for yourself on Dark Horse Comics' digital storefront. Then it's gone for good though, much like the Jedi… or the Sith… depending on your preference of setting.