Yes, iOS gamers (who game on an iPhone) your official stick and buttons have arrived. So… can we call the handheld video game console dead now?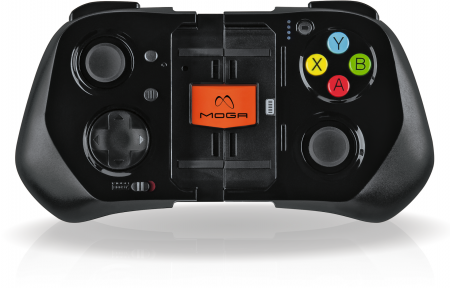 Dead might not be 100% appropriate, but definitely driving another nail into the subsection of the industry's coffin is the new MOGA Ace Power control pad for iOS. The device, which slips onto either end of an iPhone, allows the user to take advantage of Apple's change of heart as go external controllers and the iOS operating system.
The change was announced for the previously released iOS 7.0 and gamers who regularly play games on Apple's ubiquitous phone should be pleased as punch with the first offering to hit the shelves in the MOGA Ace Power.
"MOGA controllers were built for real gaming by real gamers," said Eric Bensussen, President and Co-Founder of PowerA. "We're excited to deliver MOGA ACE POWER to iPhone and iPod touch users in time for the holidays and have them experience the precision, console-style controls that promise to revolutionize the gaming experience on these devices."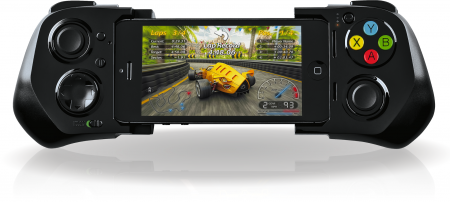 The Ace Power features a full suite of console style controls and actually looks a lot like an Xbox 360 pad. With four face buttons, a d-pad, twin analog sticks and four shoulder buttons, this thing's ready to play pretty much anything you can think of. MOGA says that they expect developers to start including gamepad support to iOS titles as a common occurrence and that's probably pretty on target. After all, the Made for iPhone framework is a native part of iOS 7 now, so why wouldn't they?
And as you might have noticed from the pictures, the MOGA Ace Power collapses when not in use for easier portability. The little guy then expands to full width and wraps around your iPhone or iPod Touch when you want to play. The peripheral maker also promises that the device will stay securely in place (no flying phones) thanks to its MOGA Arm with S.M.R.T. Lock technology.
If you're of the controller-loving mindset and want one of these for yourself, the MOGA Ace Power is available right now at Apple stores, online from Apple, or from MOGA itself.