BG had the chance to sit down (well, stand up actually) and play a few rounds with MadCatz' new micro-console, the M.O.J.O. at the CES Unveiled event in New York. Read on to find out why it just might be the micro to beat and why OUYA and GameStick (and yes, Vita TV) had better watch out.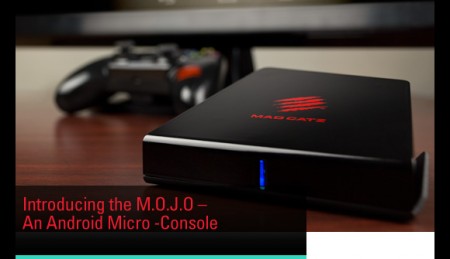 Micro-consoles are interesting little devices aren't they? Bringing the world of tablet and smartphone gaming to the big screen of the television, the usually small form-factor devices open up video gaming to whole new audiences via their low buy-in costs and inexpensive games. Well, usually anyway.
MadCatz' M.O.J.O. actually doesn't fall in with other micros in terms of cost, but it makes up for this 'shortcoming' in another pretty big way. The MOJO will cost you $249.99 USD to buy in – WAIT! Don't hit 'back' on your browser just yet! Let me finish the preview, because the M.O.J.O. just might be worth the tag.
I know it's pretty expensive for a micro-console. Both the OUYA and the GameStick have entry price points of under a C-note after all, and with that you have to think that there's more to the M.O.J.O. than what either of them are packing. If that's what you're thinking, then you're in need of a gold star.
The M.O.J.O. has an Nvidia Tegra 4 chipset under the hood, which is better than what either of the other consoles I mentioned are packing and that's not all. The M.O.J.O. is also open as a system. It runs on Android and accepts most apps and games that are available for that OS. It can even access Google Play, Nvidia's storefront, Amazon and wherever else you might like to shop for Android games and productivity software already. Yes, I said productivity.
The controller that comes packed in with the M.O.J.O. is called the C.T.R.L.R. (MadCatz likes acronyms) and can actually switch into a 'mouse mode' where one of it's sticks will function as a pointer. Of course, you really don't need to do that if you don't want as you can also set up a bluetooth mouse and keyboard if you like to actually get some work done.
Oh, and about that controller- it's got all the functionality of a full-on gamepad from any of the big home consoles out there and feels great in the hand. I had a play with Riptide, a jet ski racer, and it played beautifully on the M.O.J.O. with some excellent control that felt lag-free. The graphical quality was also noticeable as the twists and turns of the course looked awesome with some really nice looking visuals overall.
I was really impressed in the short amount of time I got to spend with the M.O.J.O. console. It's super-small (think a little bigger than an Apple TV) with a great controller and offers something that no other console has at present- no walls in its OS.
Personally, I'm really looking forward to getting a little more play time with it. I'd love some more hands on time to put it through its paces and really seeing what it can do. I have to say though- so far, so good and I was really impressed with just about everything that the M.OJ.O. had to offer. If you're looking for a micro-console or just something to play your games (even games that you own already since you can access the same Android-related accounts that you already have) on the big screen, this is one little console that just might score big with you.
Watch for it early next month – suspiciously close to the Holiday Season…