Telltale Games masterpiece f adventure gaming from 2012 has been released in an all-inclusive, retail boxed format.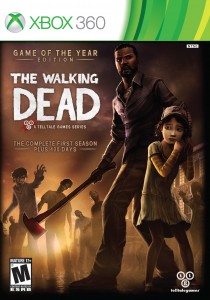 Unless you've been living under a rock for the last year, you know that Telltale Games hit one so far out of the park that it went into orbit with The Walking Dead. The episodic title was mature, gritty, emotional and managed to evolve the adventure game genre (which has forever been a point and click affair) in some excellent new ways.
Originally a downloadable-only game, The Walking Dead will now be available in boxed form for current-gen consoles (can I still say that?) and the PC. You'll get much more than just the base game too as The Walking Dead: Game of the Year Edition includes the 400 Days expansion pack and some nifty extras for die-hard fans.
"This all-inclusive edition of The Walking Dead's first season is an incredibly exciting package for fans both old and new, and one of the best ways to catch up on the story before the upcoming premiere of Season Two," said Dan Connors, Co-Founder and CEO of Telltale Games. "With the inclusion of '400 Days' and access to behind-the-scenes content and the emotionally-charged score from our long-time friend and composer Jared Emerson-Johnson, we're proud to offer this definitive edition of Season One."
If you haven't played the game (in any format), then you really should give the GotY a whirl. The Walking Dead is an incredible gaming experience filled with actual, meaningful dialog and choice- capped off with a beyond healthy dose of emotion. Seriously, the game's won so many awards that it's getting tough to count all of them. We loved every minute of the original five-part series that was Season One of The Walking Dead and, even if you're not into zombies, you really should check it out before the rapidly-approaching Season Two bows in.
The Walking Dead: Game of the Year Edition is shambling into stores for the Xbox 360, PS3 and PC as we speak.