Yes, the PS4 just launched and the Xbox One is coming this week, but if you're a Nintendo fan, then you have a smile a mile wide about the games that are coming up this Friday.
"Nintendo is making holiday shopping easy for everyone with the release of three major games on one day," said Scott Moffitt, Nintendo of America's executive vice president of Sales & Marketing. "There is something for everyone in this lineup. Super Mario 3D World is perfect for families, The Legend of Zelda: A Link Between Worlds is a must-have for gamers and Mario Party: Island Tour is great for kids of all ages."
While Mario Party might be a little more of a niche title, Super Mario 3D World and A Link Between Worlds are absolutely monsters and both look like possible Game of the Year contenders a few days out from release. Actually, that's exactly the buzz that Mario and crew's latest is getting from the press at large.
Super Mario 3D World is the newest game in the world-famous Super Mario Bros. series. The Wii U game is the first 3D Mario platformer that lets up to four players play together using Mario, Luigi, Princess Peach and Toad. Each playable character has different abilities. For example, Luigi can jump higher than the other characters and Princess Peach can float in the air for a limited time. Super Mario 3D World introduces players to beautiful HD graphics, numerous breathtaking worlds and never-before-seen power-ups like the cat transformation. In multiplayer mode, one player is able to play using the Wii U GamePad while up to three others can use various controllers like the Wii Remote or the Wii U Pro Controller. For more information about Super Mario 3D World, visit http://supermario3dworld.com.
It's nice to see from the perspective of a Wii U owner that that's the case too since the console hasn't exactly had the best time of things this past year. It needs a big release and Mario is just the character to spearhead a resurgence for Nintendo's latest hardware on its first birthday.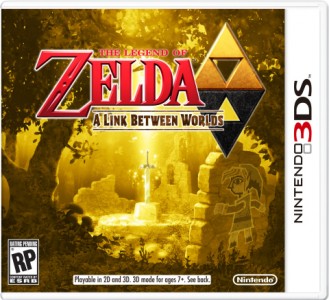 As for A Link Between Worlds, it's likewise getting some incredible word of mouth from the trades and looks like every bit the sequel to the absolutely classic SNES game A Link to the Past that fans have wanted for years. LttP is bar-none my favorite title in the incredibly long running franchise of action/RPG/adventure games and I'm personally pretty pumped for the follow-up.
The Legend of Zelda: A Link Between Worlds is the successor to fan-favorite Super NES game The Legend of Zelda: A Link to the Past, which launched in 1992. Even though The Legend of Zelda: A Link Between Worlds takes place in the same world as its classic predecessor, it is a new adventure, filled with a new storyline and new dungeons. In this Nintendo 3DS game, Link must journey between two worlds, Hyrule and Lorule, using a mysterious power that lets him become a drawing on walls. Link's ability to merge with walls allows players to solve puzzles and explore dungeons in a new way. Players are also able to buy or rent various items throughout the game, allowing them to explore dungeons in any order they want, adding a new level of freedom to the game play. For more information about The Legend of Zelda: A Link Between Worlds, visit http://zelda.com/link-between-worlds/.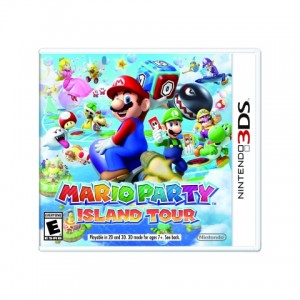 Also hitting this weekend is Mario Party: Island Tour. The Mario Party games might not be every gamer's cup of tea (I'm not really a fan and I'm a huge Mario guy), but there's no denying that the titles have mass appeal and are perennial sellers. This newest version for the 3DS/2DS actually features some mini-games that just might grab a few converts too, thanks to some really cool looking, almost  platformer-like levels. Of course, the four player multi doesn't hurt either.
With Mario Party: Island Tour, players can take the party on the go! The game is the next installment in the wildly fun Mario Party series, and the first on Nintendo 3DS. Mario Party: Island Tour features mini-games with more unique play styles than any other game in the Mario Party series. Players will imitate voices of some of the most iconic characters from the Super Mario Bros. universe using the built-in microphone on the Nintendo 3DS system, tilt the system to hang glide and even adjust reality with AR Card play. Mario Party: Island Tour also features Download Play, which means up to four Nintendo 3DS or Nintendo 2DS owners can play together when in the same room – even if only one person owns the game! For more information about Mario Party: Island Tour, visit http://marioparty.com.
All three of these titles will be available this coming Friday, and if you're in NYC, make sure you stop by the Nintendo World Store (in Rockefeller Center) as they'll be having a big launch event for the games that promises to be a good time.