Eugen Systems sneaks a peek at their upcoming RTS sequel that takes the recently released Wargame AirLand Battle in the Pacific theater.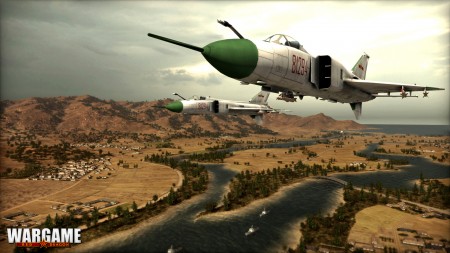 As you can tell, the game looks absolutely gorgeous. If you played AirLand Battle at all then you probably already knew that though. Eugen has a way with these latter century RTS' it seems and Red Dragon is looking to be no different.
The game takes a look at the "conflict in Asia" between '75 and 1991 and includes a total of five new nations. China and North Korea both are on the armed forces listing in Wargame and include a massive 450 new units to play with with full compliments of naval vehicles present and accounted for.
Developer Eugen never ceases to amaze with this, but there are a whopping 1300 units in the game. And for those who like realism, all of them are super-detailed to look like their real-world counterparts. The actual game is just as detailed as players can expect a single-player campaign that focuses on the war in Korea and a multiplayer mode that up to 20 players (!) simultaneously
No release date out there yet, but expect Wargame Red Dragon at some point soon for the PC. If you'd like to see our review of AirLand Battle to see what you're in for with the Dragon, click here.