Mobile gamers and fans rockin' tunes take note, your speaker just might have arrived. Soundmatters' Dash7 is light enough and small enough to go just about anywhere with you.

Super-small and thin, the Dash7 is only 3/4 of an inch high and built to fit in your pocket, or sit right in front of an iPad without blocking the screen. The little guy is completely wireless as well and works off of Bluetooth, so anything that supports the technology is fair game as far as compatibility is concerned.
Unique ¾" height lets you nestle the DASH7 beautifully below your tablet.
Omnidirectional sound for watching movies or music videos.
Includes combo case and stand.
Angled stand provides even higher resolution on-axis listening.
Extended Bluetooth range.
Noise cancelling speakerphone to answer phone calls while listening to music or movies.
Sub output allows you to add the optional foxLO, the travel-size powered subwoofer small enough to fit in a quart-size baggie.
High power international USB Charger Kit (US/EU/AU/UK), powerful enough to charge your tablet.
Three colors: vibrant red, arctic white, and midnight black.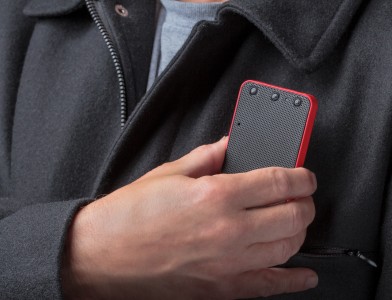 If you're looking for pedifee, the Dash7 has a good deal to spare as it's from the same guys who've supplied the audio tech to Jambox (FoxL). The company itself is ensconced in sound too as it's the brainchild of former NASA (yep, NASA) engineer and auditory wizard Dr. Godehard Guenther. Doesn't get too much better than that.
The Dash7 is available now in a trio of shades and will cost you $249.99 USD. Check out more about the little guy and Soundmatters in general, here.