Nintendo handhelds are getting a double dose of Doodler.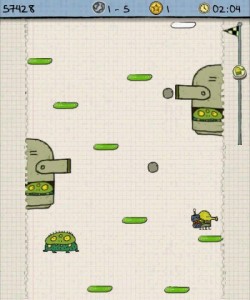 Lima Sky's Doodle Jump will be making the leap from the mobile space to the DS family of handhelds with the upcoming Doodle Jump Adventures and Doodle Jump Journey. Developed by Smoking Gun Interactive, both versions of the game will be out in time for the Holidays and both represent something a little bit different while keeping that pick up and play mentality that made the original game #3 all time on the iOS charts.
"Nintendo is synonymous with great platformers, adorable characters and on-the-go gaming," noted Igor Pusenjak, co-founder of Lima Sky. "Doodle Jump is a natural fit on Nintendo's handhelds. We're thrilled to bring the Doodler to audiences that have yet to meet him while bringing great new adventures to our existing fans."
Doodle Jump Adventures, the 3DS edition of the game. has 48 stages to play through in its Adventure Mode. Gamers can expect a little something like was seen in the Xbox Live release as this version of the game will have challenges, power-ups and boss fights.
The DS' Doodle Jump Journey on the other hand, is the straight-up original game that everybody fell in love with on the iPhone and iPod Touch. Three themes to skin the game in (Classic, Jungle, and Space) and an endless 'journey' to nowhere feature here. It's almost… zen-like…
Look for 'em both before the Tree goes up.