The peripheral maker MadCatz has struck a deal with Titanfall publisher EA and Respawn to get Titanfall gear into gamers hands.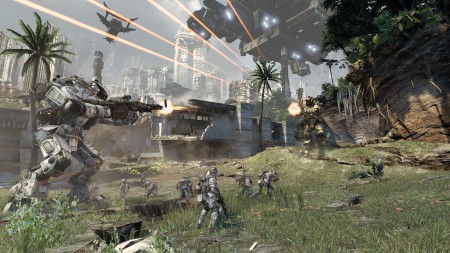 Getting no end of pre-release buzz is developer Respawn's excellent looking mech/on-foot shooter Titanfall. The game will be on store shelves for the Xbox 360/One and PC sometime next year and will have a full compliment of accessories available for it from MadCatz including Tritton gaming headsets, R.A.T. mice, S.T.R.I.K.E. keyboards, F.R.E.Q. gaming headsets and G.L.I.D.E. gaming surfaces.
"Titanfall has earned critical acclaim and won numerous awards, including Best of Show, Best Original Game, and Best Online Multiplayer at this year's E3 conference. Mad Catz is excited to bring a range of cutting-edge, innovative, Titanfall-branded products to gamers in connection with one of the most anticipated game launches in recent history," said Darren Richardson, the President and Chief Executive Officer of Mad Catz Interactive, Inc. "The Titanfall license builds on Mad Catz' strategy to align our product portfolio with AAA content that appeals to passionate gamers."
That's some of the top of the line gear that MadCatz produces and all of it's way above average on our review scale. We've reviewed items from the STRIKE, Tritton and RAT lines over the last year or so and been blown away by the quality across the boards. This is some top-flight gear and if you haven't tried any of it just yet, we wholeheartedly suggest you do so ASAP.
As for the Titanfall-branded stuff, that'll be on store shelves right with the game. When that's going to be is still up in the air a bit, but we'll keep you posted.