Artist Clayton Henry has signed on with the publisher for an exclusive run with Valiant's Harbinger series starting in January's issue #20 and the daw of the Resistance story arch.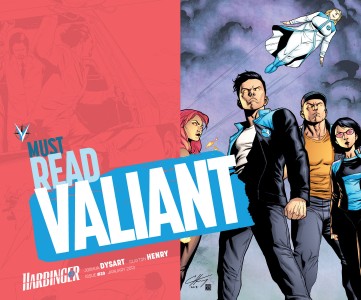 Henry joins the publisher's ever-growing stable of exclusive talent including "artists Doug Braithwaite (Unity), Trevor Hairsine (Eternal Warrior), and Cary Nord (X-O Manowar), as well as New York Times best-selling writer Joshua Dysart (Harbinger, Bloodshot and H.A.R.D. Corps) and acclaimed colorist Brian Reber (Unity)".
He's also teaming with fellow Valiant-exclusive talent and Harbinger Wars partner Josh Dysart for the Harbinger ongoing's next big arc- and this is a very big arc. The Resistance storyline is meant to be a fresh jump on point for readers looking to get into one of Valiant's best series.
Peter Stanchek and his team of teenage superhuman outlaws have decided that the best defense is a strong offense. Pursued from coast-to-coast by their would-be overlord in the Harbinger Foundation, the Renegades are about to launch a strategic strike on Harada's secret empire – and they'll start by revealing to the world just what kind of power they've been hiding all along. The ace up their sleeve? A seemingly normal teenage hacker named Ax…who knows exactly what Harada has been up to since day one…
Harbinger #20, aside from being a new plotline and jump on point, is also a part of the Valiant Must Read campaign. What's that mean? Basically it's a marquee issue with a clean arc that fans both new and current can dig into, or as Dysart summed it up:
"This arc will be incredibly new-reader friendly… We've built a lot of great jumping-on points into the previous issues, but this will be the easiest one yet. If you've haven't read the book, this is the one to try. If friends haven't read the book, this is the one to hand to them," Dysart told Comic Vine.
So far Must Read Valiant includes Quantum and Woody #5, Shadowman #13, Bloodshot and H.A.R.D. Corps #18 and , of course, Harbinger #20. If you haven't been following Valiant's rise from the ashes towards being one of the best publishers in comics today, these are the issues to get.