The most-powerful 'hero' in the Valiant U sets up shop for the occupation of Eastern Europe.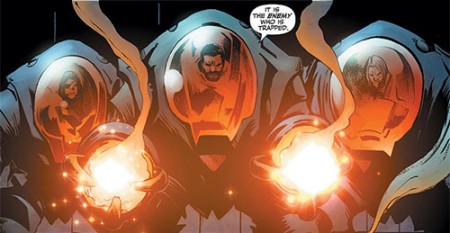 With his nation state of Dacia fortified in eastern Romania, X-O Manowar has bent the world to his will. But he will not stand unopposed. With the assembled forces of the United Nations and NATO primed to assail the newly founded homeland of the Visigoth people, the man inside the indestructible Manowar armor is about find himself more vulnerable than ever – and with everything he holds dear on the threshold of a terrible turning point for the Valiant Universe…
And a 'turning point' it is as X-O lead into the Universe-altering Unity storyline with the very next issue and Unity #1. I'm not really sure if Aric (X-O) is making a heel turn here, or if he's just a man out of time, who's looking for a place that he and his people can call home.
X-O Manowar is one of the most savage characters in the Valiant stable, but he's also one of the deepest. He's stunningly easy to sympathize with as his story up till now is a complex tale of abduction, slavery and triumph that's quickly seeing the godlike character traveling down an ever more slippery slope. Needless to say, if you haven't been reading X-O Manowar, this is probably an issue that you'd want to start with. The future for the character starts here.
X-O Manowar #18 hits stands on October 16th with special Valiant 8-Bit Level 2 cover variant by Donovan Santiago.