Making its grand entrance on the east coast, the Marvel Shop is ready to open its doors for NYCC this month. Face front true believer, because they're stocking a ton of stuff that you're probably going to want to take home with you.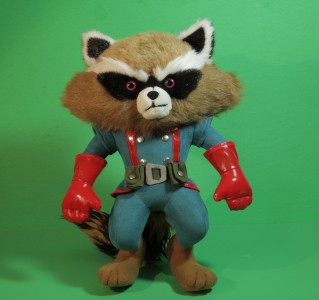 And by a 'ton of stuff' I don't mean two or three things, or things that you could get anywhere. In with the selection that'll be offered on the Marvel Shop's shelves will be a solid amount of exclusive items including a bunch of really cool tumblers (I'm a sucker for those) and a Rocket Raccoon plushie. Yes, you read that right- now you can traverse the galaxy fighting evil with your very own little, ornery raccoon sidekick… just don't tell him he's your sidekick.
Here's the full list of offerings for the show:
Rocket Raccoon Plush by Just Play with Limited Edition Skottie Young Lithograph – Take home your very own cuddly, plush Guardian of the Galaxy. Just don't call him cuddly to his face. Each awesome plush also includes a limited edition lithograph illustrated by Skottie Young! (Limited to 1000 pieces): $34.99
Glass Tumblers – Enjoy your beverages with these awesome character themed tumblers made exclusively for New York Comic Con. There will be seven different unique designs available. Additionally, each Glass Tumbler will come with a certificate of authenticity. (Limited to 200 pieces for each design) Price: $15.99 each
Deadpool by Skottie Young
Spider-Man by Skottie Young
Thor and Jane Foster from Thor: The Dark World
Angela by Sarah Pichelli
Superior Spider-Man by Ryan Stegman
Hawkeye by David Aja
Marvel's Agents of S.H.I.E.L.D.
Scarlet Witch by Adi Granov
Zombie Magneto Bust by Gentle Giant – What's more terrifying than the Master of Magnetism? A Master of Magnetism who feasts on brains! Decorate your home or workspace with this highly detailed zombified Magneto bust designed by Gentle Giant. (Only 300 pieces on hand) Price: $99.00
Marvel Unlimited Plus Subscription with access to exclusive Plus Member Only Event – Become a Marvel Unlimited Plus member ($99.99 for one year) and gain access to over 13,000 digital comics, receive an exclusive Age of Ultron Collectible Kit, members only discounts on Marvel merchandise & comics, & more! All comics can be read digitally on the web or via the Marvel Unlimited app (for iPhone®, iPad®, iPod touch® & Android™ devices). The exclusive Age of Ultron Collectible Kit features a limited edition Marvel Legends Ultron AU variant action figure, Age of Ultron #10 variant, (both not available anywhere else) AND your very own membership card and welcome letter.
Marvel Unlimited Plus Members also have the opportunity to attend a Plus members-only event where Plus members can receive an exclusive Captain America: Living Legend variant by John Cassaday and Steve McNiven Inhumanity lithograph! MU Plus members will even be given a 10% discount on all Marvel merchandise purchases from the Marvel booth during New York Comic Con.
Marvel Unlimited Plus event open to Marvel Unlimited Plus members only. Must have event pass and valid 3-day, 4-day or Sunday New York Comic Con pass for entry. Event badges do not guarantee access to Plus Member event. John Cassaday variant and Steve McNiven lithograph available while supplies last.
10% offer valid only from 10/10/13 – 10/13/13. MU Plus members must provide membership card and valid photo I.D at the merchandise booth to receive 10% off of their entire Marvel merchandise purchase.
Mighty Avengers #2 Cosplay Variant by J. Scott Campbell – Superstar artist J. Scott Campbell brings you some of your favorite female Avengers characters as they get ready to cosplay at NYCC! (Only 2,000 copies printed) Price: $10.00
Superior Foes of Spider-Man #4 Variant by Gurihuru – Gurihuru puts the Spider-Man up against his worst enemies – or rather ponies dressed as his worst enemies! This is a must own for any Spider-Man fan! (Only 2,000 copies printed) Price: $10.00
Phase 1 Marvel Cinematic Universe Blu-Ray Collector's Set w/ limited-edition 24 x 36 Marvel's The Avengers theatrical homage poster by Skottie Young. – Bring home a piece of cinema history with Phase One of the Marvel Cinematic Universe on Blu-Ray! This collector's set includes all six Avenger's films from Phase One and other amazing collectibles. But wait, there's more. We are also including a limited edition theatrical homage poster as a special gift with purchase for anyone who buys the Box Set at the Marvel booth. This limited edition poster is illustrated by Skottie Young and is hand-numbered. (Only 150 sets on-hand) Price: $150.00
Iron Man Statues by Beast Kingdom – Celebrate the unprecedented success of the Iron Man trilogy and decorate your home or office space with these unique Iron Man statues from Beast Kingdom! Limited quantities of each will be available at the convention. This marks one of the first times these statues are for sale by Marvel in the United States! Price: $80.00 each. There will be four Marks available:
Iron Man Mark V (20 statues on-hand)
War Machine (63 statues on-hand)
Iron Man Mark VI (75 statues on-hand)
Iron Man Mark 42 (75 statues on-hand)
Marvel Logo Cap by New Era – Show your love of all things Marvel with this exclusive 59FIFTY fitted cap from New Era featuring the Marvel logo. (Only 250 pieces available) Price: $29.99
Thor: The Dark World Cast & Crew Tee Exclusive Loki Fan Variant – Celebrate the release of Marvel Studios' next blockbuster Thor: The Dark World with this exclusive cast & crew variant tee available only at NYCC! The unique periodic table design spotlights major characters from the film, including everyone's favorite God of Mischief – Loki! Don't miss your chance to take home a your own piece of Thor: The Dark World. (Limited to 399 pieces total. Available in men & women's sized) Price: $34.99
Lucky's On the Case T-Shirt by David Aja – Straight from the pages of Hawkeye comes everyone's favorite crime solving, pizza loving canine. Don't miss your chance to own this exclusive design available only at New York Comic-Con! (Limited to 400 pieces total. Available in men & women's sizes) Price: $19.99
Rocket Raccoon & Groot T-Shirt by Skottie Young – Get ready for the release of next summer's Marvel Studios' blockbuster film Guardians of the Galaxy, with this limited-edition Rocket & Groot t-shirt featuring art by fan-favorite artist Skottie Young! (Limited to 500 pieces total. Available in men & women's sizes) Price: $19.99
Marvel's Agents of S.H.I.E.L.D 'Coulson Lives!' T-Shirt – Coulson Lives! Support everyone's favorite agent of S.H.I.E.L.D. with a brand new t-shirt from Marvel Television's first live action show airing Tuesday nights on the ABC network! (Limited to 550 pieces total. Available in men & women's sizes) Price: $19.99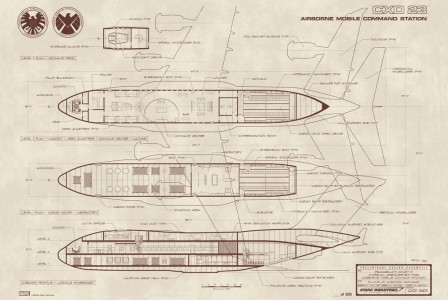 Marvel's Agents of S.H.I.E.L.D. "Bus" Blueprint – You may not be able to own the Agents of S.H.I.E.L.D.'s flying headquarters known as "the Bus", but you can own this limited-edition, hand numbered blueprint. Learn the ins and outs of the Agent's mobile command center and bring home your own piece of Marvel's Agents of S.H.I.E.L.D. (Only 300 copies printed) Price: $12.99
Captain America Hooded Scarf – Stay warm this winter and dress like you're the Sentinel of Liberty himself with a hooded scarf designed to look like your favorite Avenger. Each scarf comes emblazoned with Captain America's iconic "A" and wings so you can battle the Red Skull…or frostbite. (Limited to 100 units) Price: $24.99
Yep, that's a lot of stuff right there. The Marvel Shop will be open in the Marvel Comics booth (which is #1354 on the show floor) and will run right through the full show hours of October 10th through the 13th. Just so you know, there'll be plenty of other things at the booth too like Tees, Blu Rays and more- so there's no shortage of stuff in the store, but supplies probably won't last all that long for the more unique items (I'm looking at you Rocket Raccoon), so try to get there early to secure what you want.