With the question of 'will it get funded' off the table since pretty much the first hour of the campaign, now the question is just how many of the additional funding levels will No.9 bust through.
Having just broken 3 million in finding, the game is now ensconced in the Kickstarter elite as it's one of the top five 'gaming' campaigns ever and the top-grossing Japanese crowd-funded game ever. Pretty awesome for a game that allegedly no one wanted to see made. And as you can see, it's looking pretty nice too.
Right now, Mighty No.9 sits just above the PS4/Xbox One edition goal- and it seriously has a decent chance of making it with only about 250k standing in its way. That might sound like a lot, but lets remember that the original goal for the campaign was 900k and (as of this writing) the grand total is sitting at three million plus.
And Mighty game-maker comcept is going all out to make sure No.9 hits as high on the funding chart as he can. As the campaign winds down, they've added a bunch of really cool little extras and add-ons that might grab you (if the game hasn't already- or might just make you up your pledge.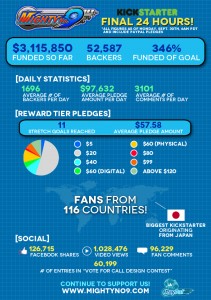 Here's what's new:
PHYSICAL DISC AND USB "CART": A new physical disc and sweet NES- and Famicom-styled USB "cart" versions of Mighty No. 9 for sale!
MUSICAL TALENTS: Mega Man 2 composer Takashi Tateishi and Mega Man Zero (and Mega Man 9/10!) sound producer Ippo Yamada jumping on board to lend their talent with Mighty No. 9's music!
VOTE FOR HEROINE CALL: Voting for the design of the Mighty No. 9 heroine Call is open to everyone, and going on now!
NEXT-GEN AND HANDHELD VERSIONS: Mighty No. 9 is sooo deliciously close to the very next stretch goal: PlayStation 4 and Xbox One versions of Mighty No. 9, with newly-announced PlayStation Vita and Nintendo 3DS versions also within reach!
BEHIND THE SCENES: The Mighty No. 9 team released their first documentary episode, showing an early behind-the-scenes look at the creation of the game!
LIVESTREAM: The Mighty No. 9 team will be hosting a livestream for the final hours of the Kickstarter, running Tuesday, October 1, from 3pm to 6pm PDT, including team interviews, live backer Q & A, special guests, and Inafune himself announcing the winners of our Call heroine design vote!
Ready to get in on the campaign? Click here to head to the Mighty No.9 Kickstarter page. If you are interested though, don't wait on it, because this one wraps up tomorrow.