Steel Series' latest is an in-ear headset with a memory foam twist that's great for tunes and games alike.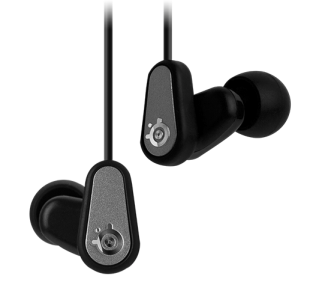 I have an odd history with in-ear headsets in the sense that they typically don't stay in my ears. I have no idea why exactly, but headphones that are made to fit within your ear canal just flat out don't work for me. I seems like after a decent amount of time walking around, they just kind of fall out. Well, until now that is.
Steel Series has been producing headphones and a multitude of other gaming peripherals for a while now but I haven't had the privilege of using any of their catalog till I had the chance to try out the Flux In-Ear Pro Headset. If this little set of earbuds with the long name is in any way indicative of how Steel Series makes their gear in general though, then that's something I'm going to have to remedy as soon as possible.
The Flux In-Ear Pro Headset includes a full set of tips that can fit your ear canal for a 'traditional' in-ear fit. That meaning that they're very much like most other headsets on the market in the way that they include a bunch of differently-sized, rubber ends that you can mix and match to see which ones best fit you. What really excites me about this headset though, is that one of the pairs of tips are constructed of memory foam.
Yep, memory foam. That same squishy material that your mattress is made out of is used in this pair of phones to truly give the wearer a custom fit that will work for absolutely anyone. And I can say that because they work for me. As someone who's never been able to effectively use an in-ear headset in any way (which sounds really stupid for some reason), these fit the bill nicely.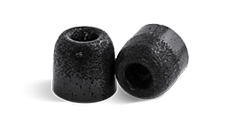 The tips are small and fit directly over the ends of the earbuds, like any other earbud rubber tip. At that point, you simply squeeze the memory phone buds (so they're squished down) and then load 'em up into your ears. After that, they take shape by expanding to fit the insides of your ears. If that sounds like they're not going anywhere, it's because they're not. I was very surprised (to say the least) that they didn't budge an inch as i walked around and 'field tested' the phones. This is great stuff and, if you're unable to use in-ear headphones, these might just be the ones for you.
If you can use in-ear headsets like most of the general populace and have no troubles with them, then the Flux In-Ear Pro's are still a good choice for you. As I said earlier, a trio of traditional ear tips are included in the box with the Flux headset and they should work nicely for anyone who's used to them as they're pretty standard.
As for the headset itself, and I know I went off on a tangent about the memory foam tips, the audio quality is excellent as is the sound dampening. The Flux In-Ear Pro features a 'balanced armature driver' and Steel Series boasts that they're the most accurate headphones, sound-wise, that they've produced thus far. That's a claim that's easy to believe as the Flux delivers an excellent sound quality that's both crystal clear and has an terrific bass level. I also really enjoyed the sound blocking ability of the Flux- basically, it keeps out the outside world to a great degree and just lets you hear your music.

The Flux In-Ear Pro also has a different kind of style than most headsets in that it's designed to fit over your ear and not just dangle down from it. The buds pop into your ear with the cables pointed up and coil around the tops of your ears and down the backs. This provides a few different wearing styles (including the standard approach) and actually is really comfortable. The Flux' also include small, rigid, cable-holders that you can clip your cables into in order to keep them 'solid' if you find that the loose form factor doesn't work for you or is uncomfortable.
But the fun doesn't stop there as there's a bunch of other cool stuff about the Flux as well. The cable that runs from the headphone splitting point down to your media player is flat instead of the usual round one. This goes a long way towards preventing tangles and is very much appreciated by a guy who routinely shoves his coiled headphones into his pocket or briefcase.
And at the end of that flat cord is a disconnect point. Why would you need that? Because the end snaps off to allow you to switch between mobile/Mac connectivity and PC use. Obviously, since we're talking about a standard audio jack here, you can use the Flux In-Ear Pro's with just about anything that has a headphone port, but it's just a nice touch to see that Steel Series went so far with them to set users up with a special PC fitting too.
Final Thoughts
There really isn't too much to not like about Steel Series' Flux In-Ear Pro headset.
You can use it with just about anything (even consoles with an adaptor) and the sound is really terrific. I know I mentioned it above too, but it deserves to be repeated that the clarity and bass are terrific and these bad boys sounded better than even my Bose 'phones that I usually use.
The over the ear 'default' setup is great (and was something that I hadn't used previously and I really can't say enough about the memory foam tips. Just awesome- and highly recommended.