Nintendo has just recently put up the official website for Super Mario 3D World, and not a moment too soon, as the game gets released in less than two months from now.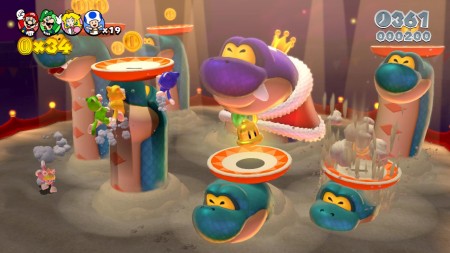 With the holiday season on the rise, Nintendo will need a killer lineup ready for its competitors set to release their new consoles. Padding this list of games is Super Mario 3D World, an interesting twist on the 3D Mario games. What we know about the game so far, is that this will be the first 3D Mario platformer where you'll get to play alongside 3 other people. It will be somewhat of a throwback to Super Mario Bros 2 USA with its system of allowing the player to pick up and throw items, you will have a new power up known as the "cat suit" or "cat Mario" to some. Each character plays much like they did in Super Mario Bros 2 USA, such as Luigi with his flutter jump, Princess Peach being able to float as she jumps, and Toad being the fastest.
The website gives you the basic information of the title, such as the release date, number of players, etc. It also has the E3 trailer up on it for you to watch, including a brief description of the game below. Beyond that though, there isn't anything else; Nintendo appears to be tight lipped about the game, saving much of the surprises for when you actually play the game.
Source: www.Nintendo.com